Binet's Formation
Binet's Formation is a special condition which makes Higher Lows and Lower Highs and squeezes the stock into a narrow range before a volcanic surge.
Links:
http://mathworld.wolfram.com/FibonacciNumber.html
http://portal.groupkos.com/index.php?title=Fibonacci_Sequence&redirect=no
Formation: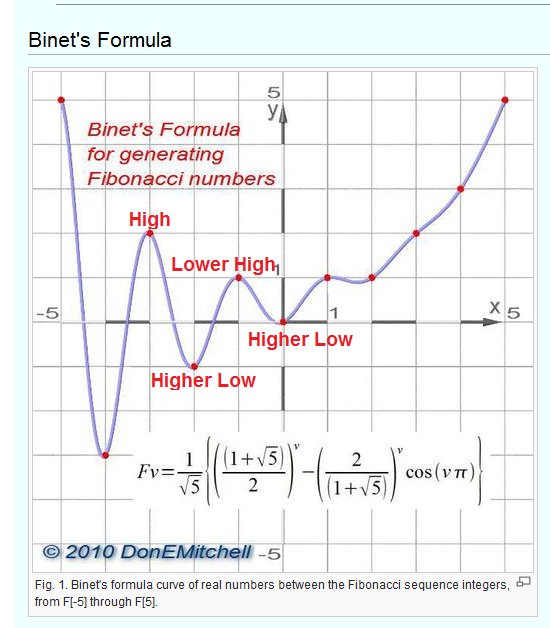 Focus on the HL and LH, the red dots might not be equidistant, but overall structure matters
#ALICON Binet's Formation Detected T 615/675 SL 510 if Daily C >580 with Strength candle on 23/10/2017
Touched 761 on 09/01/2018
Its the way most accumulations are made of Binet's Fibo Number Theory !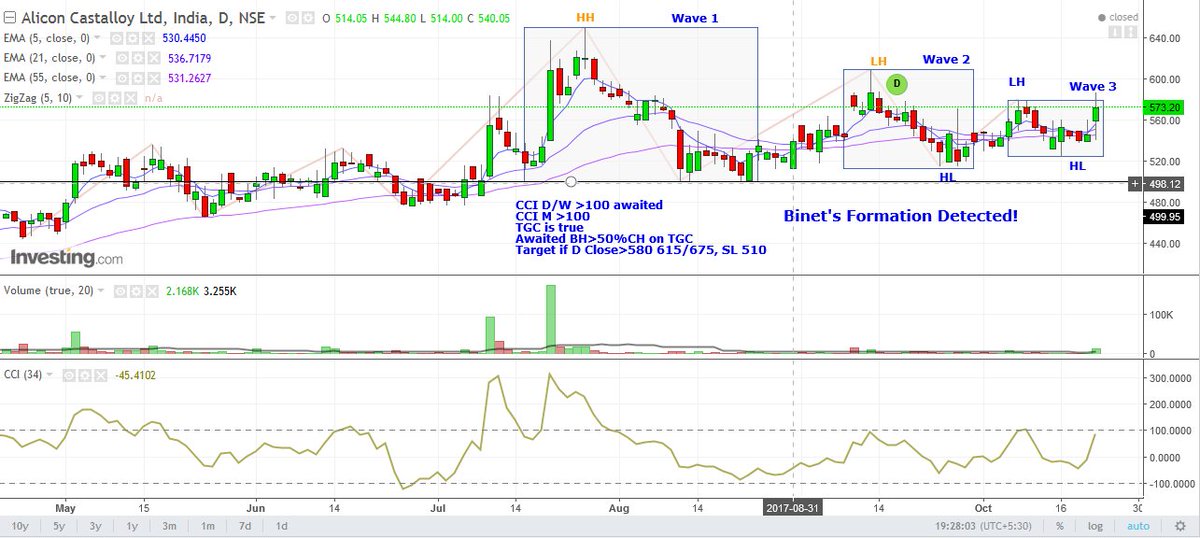 Observations:
Depiction of Binet Fibo Number Pattern in Pennants.
Its one wave still as CCI hasn't been <-100!
Qn: Should the intermittent waves be considered, then it's invalid Binet's Formation?
Ans: Intermittent waves will not exist on a higher time frame. Knowing this - no need to worry. Take the Highest as one for consideration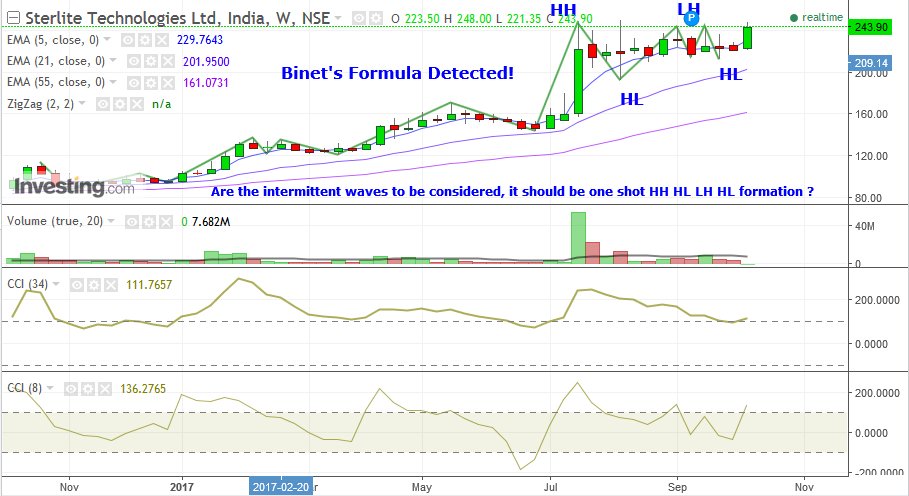 Binet's Pattern on 11/Oct/2017 created high of 150 on 26/12/2017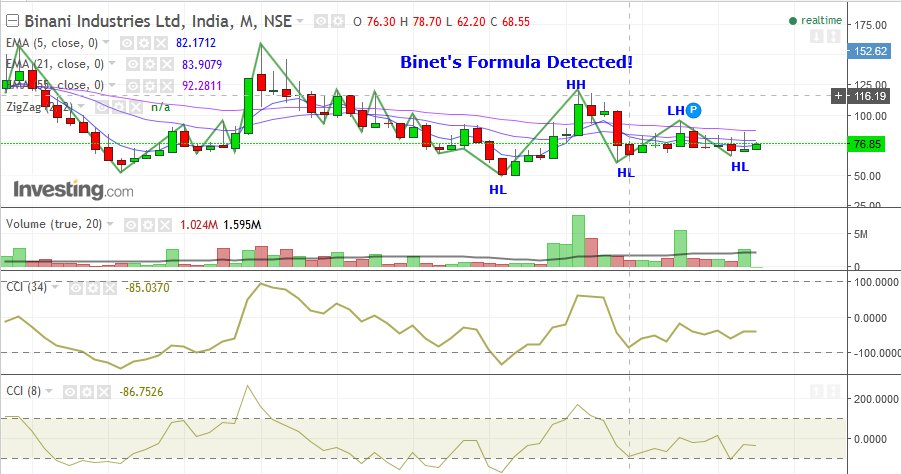 A perfect Binet's Formation with a blast after VOM on intraday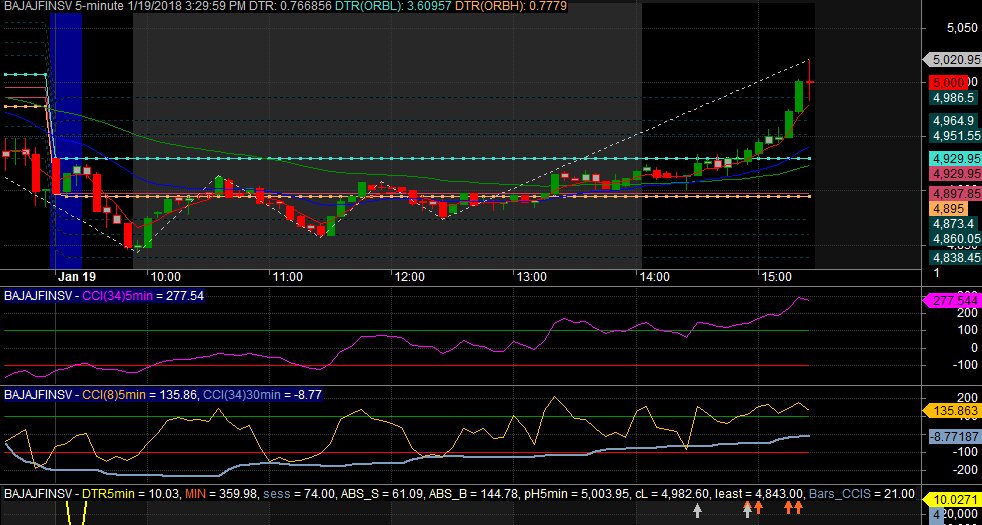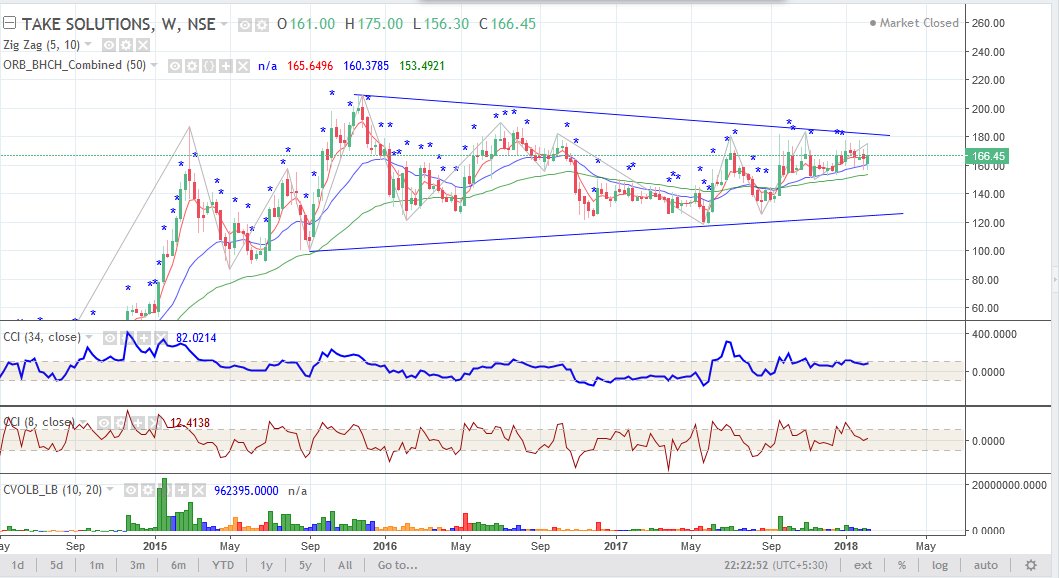 Observations:
CCI 34 hasn't moved below -100 since it moved above +100.
CCI 34 pattern is in itself a binets formation. Double powered blast coming that way!
#ABB, On the lines of Binet's Fibonacci Number Concept !

Classic Example of Binet Formula occurred in Nifty 5min charts, led to the spiral rise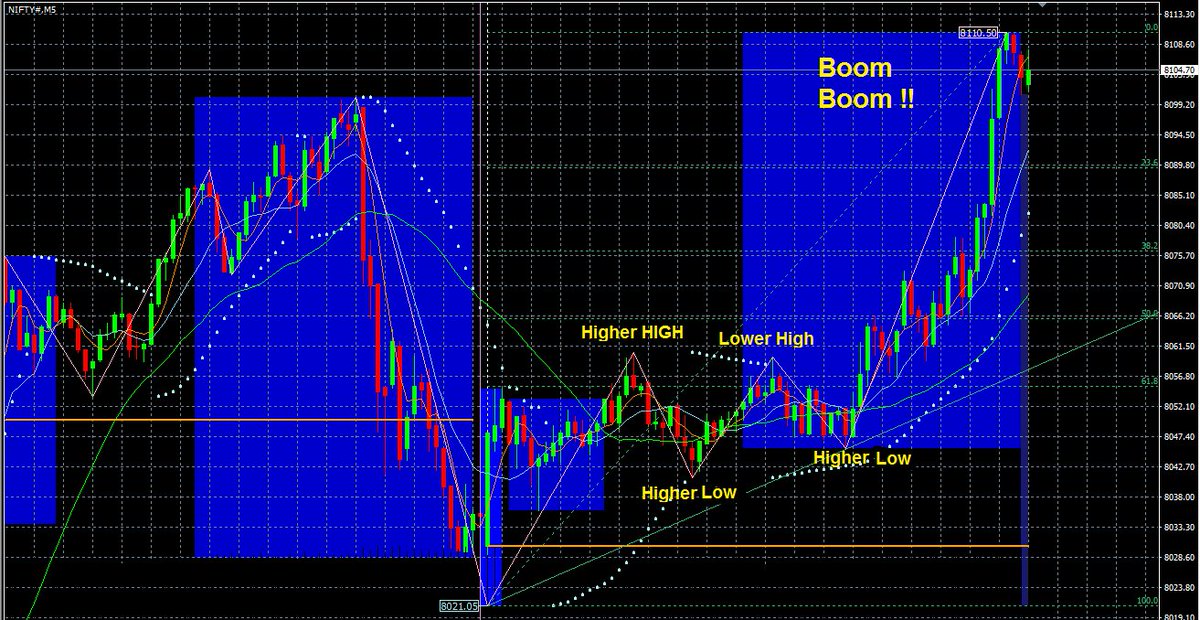 Another Binet's Formation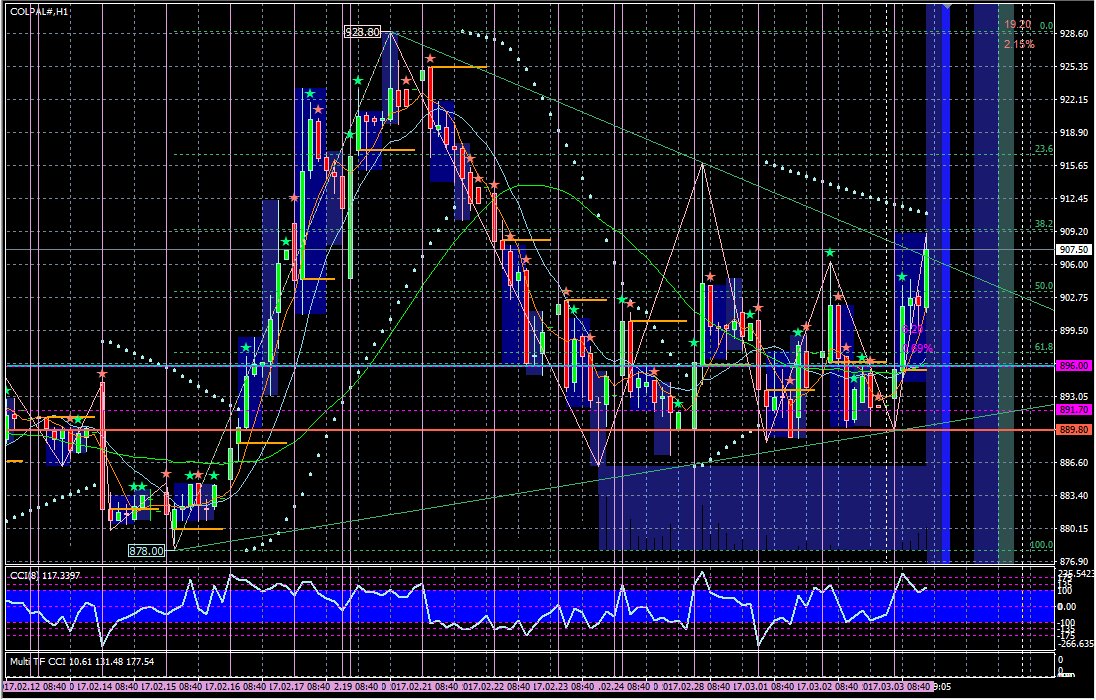 The below example depicts the intricate details of Binet's Formation:
This is what the naked eyes sees on the charts: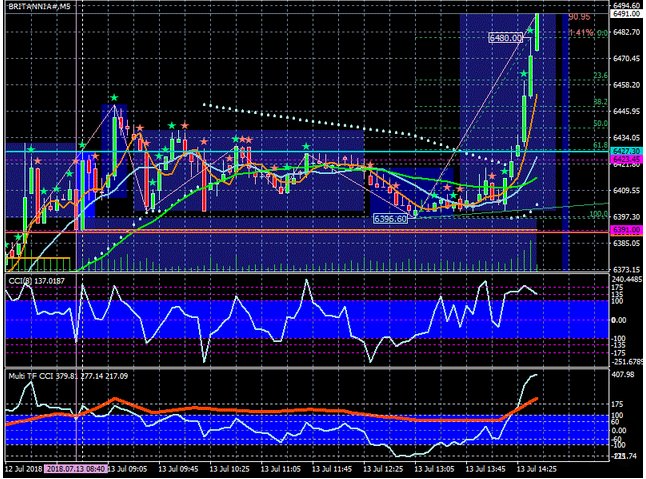 It seems that the low (before the surge) cancels / negates the binet's formation based on the discussion till now.
Qn: Does that low 6396.6 between 12:30 to 13:00 allow it to be binet ? wherein it broke the previous swing low around 6409?
Ans: It wasn't a binet's formation on the low basis, but on the closing basis.
Let's view the same chart on the line charts (Closing basis), here the Range low (Closing basis) is intact and not violated.
Since we view the OHLC chart, it seems that the low is breached, in such cases check the line charts (Closing basis) for confirmation.

Rule:
Low must never be lower than the range low, High lower than range high.
Both High and Low of a Bigger Range must never be violated.
Summary:
Range high and low should be protected for contraction to build up, not necessarily the immediate last swing low, as in this case.
Another example for Binet's formation: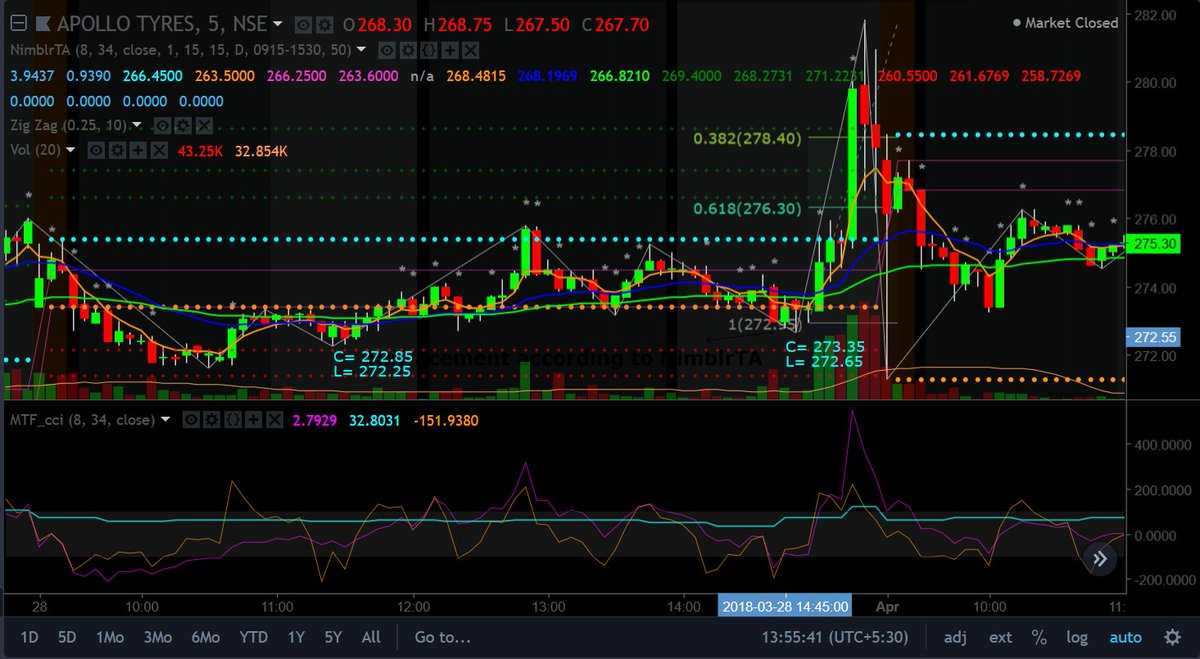 Inverse Binets Formation:
Rotate the Binet's Formation to 180 degrees + flip vertically
Its a bullish trap where bulls get in n the price falls. Last HH is very sharp up on low volumes.
This is the Best Bear Market Trading Pattern! Its a Inverse Binet Fibonacci Curve .. and leg that pips is total deception. If you are aware that Inverse Curve is ongoing the tip is best for Selling n the earnings come at sonic speed due to panic fall.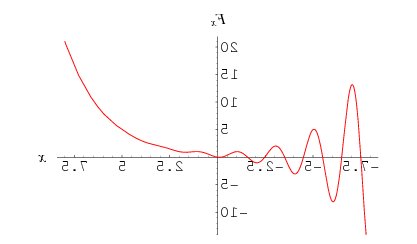 Pin Bar
Pin Bar means some sort of reversal but must be followed next day with a Strength BH>50%CH Candle with high and close both above high of Pin Bar for a Buy and low and close below low of Pin Bar for a Sell
Pin Bar Candle sent Hindustan Lever crashing from 913.95 to 888.65 .. The Color of the candle is immaterial. The candle that follows matter!
Low and Close below the pin bar followed with second BO completes confirmation of Top!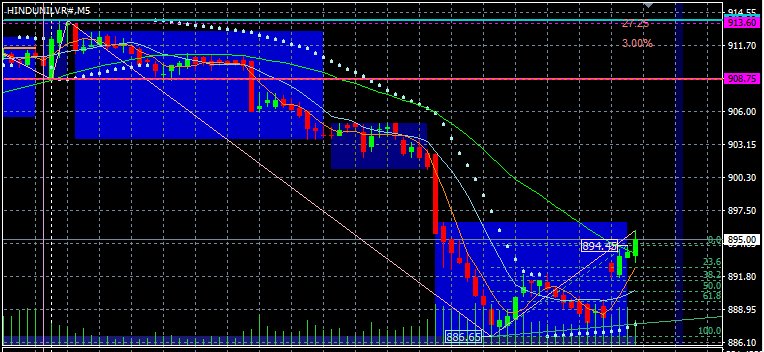 Pin Bar - follow up candle decides the direction therefore therefore color is immaterial or there is nothing called Bearish or Bullish Pin Bar.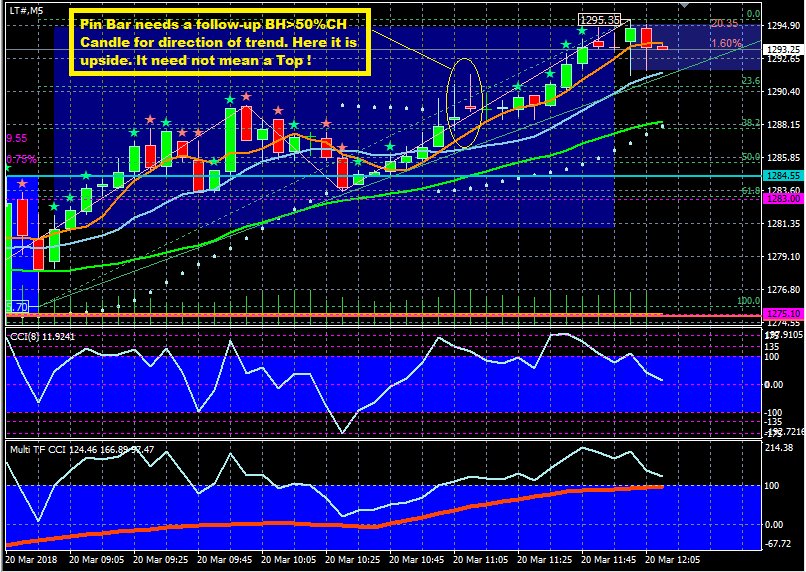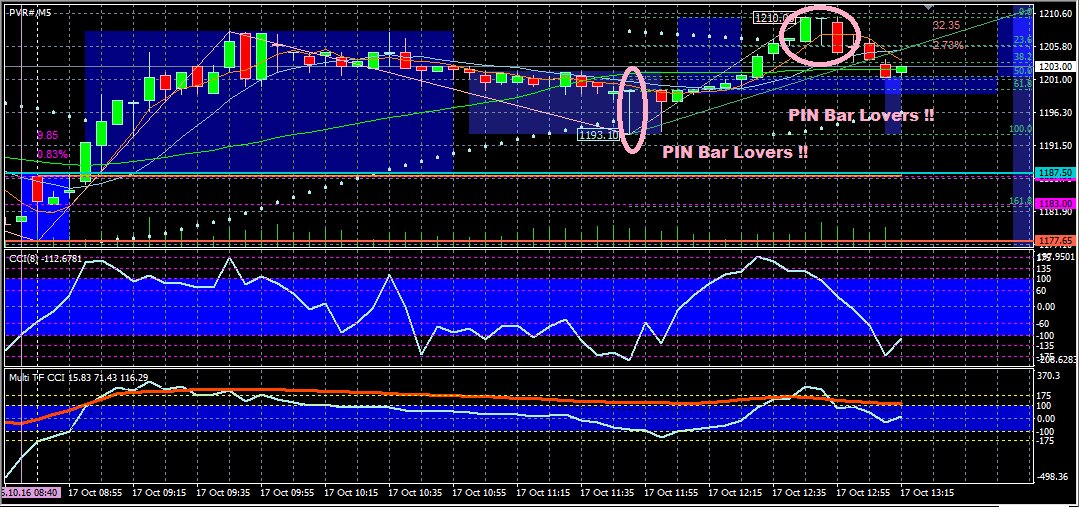 Wedge Formation
Usage Hints
Check overlaps with line charts

Weekly line charts would help identify the overall structure of waves for investment

For wedge formation consider the monthly charts (highs and lows) i.e. the highest timeframe under consideration.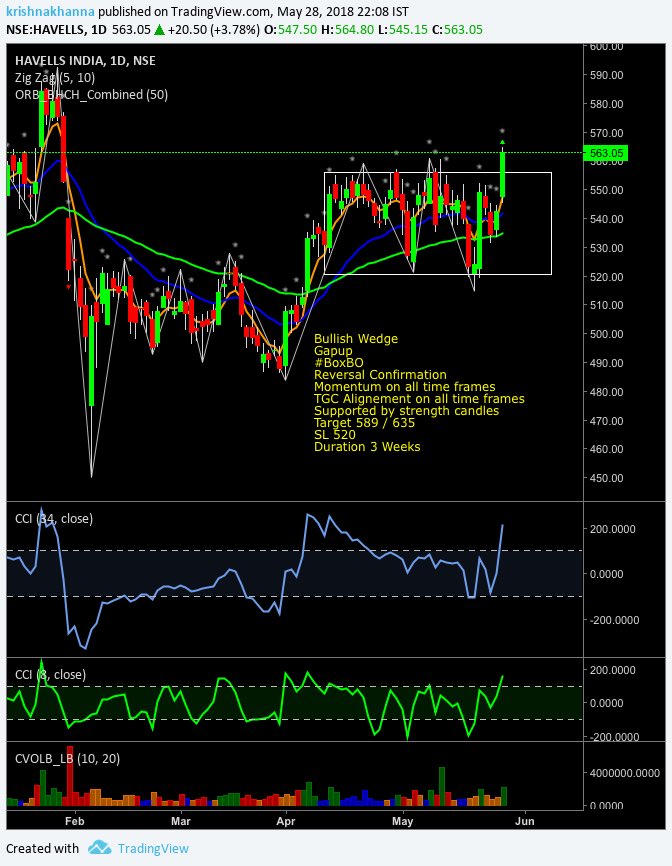 Weekly Line Chart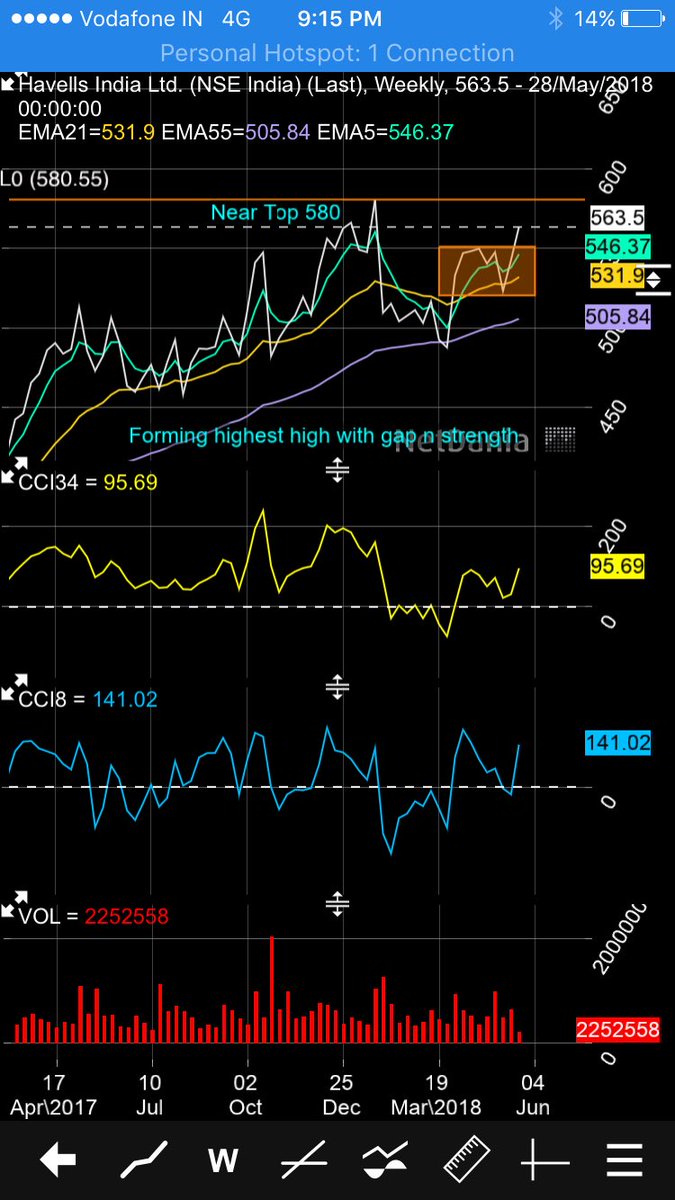 When 4 of a wave does not go below 1, there is no overlap. If it goes below 1, there is an overlap; a way 2 check bearish/bullish wedges.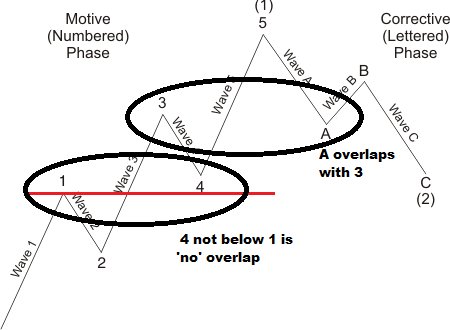 Dr Reddy CMP 2722.20 .. Without fail must take-off from here to close above 2935 with a Strength Candle on Weekly on 7Dec18; and never look back below 2349, or else will turn into a bearish wedge finding new bottom below 1887 in next few months ahead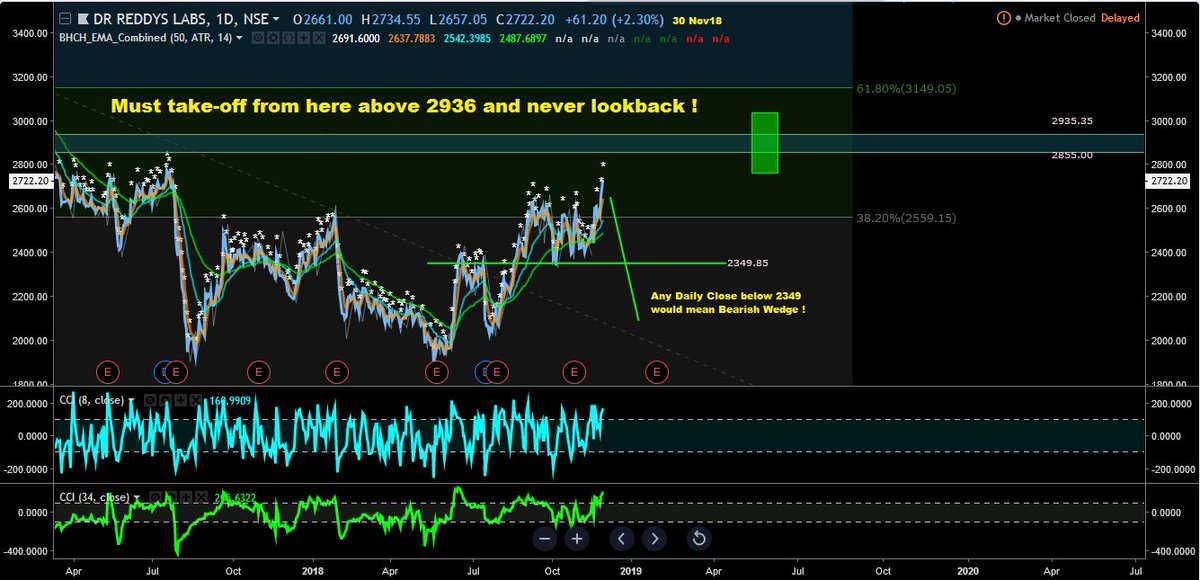 Fall below 2949.45 is overlap losing impulse status of the wave. CCI below -100 much earlier. Indecision/Weakness confirmed!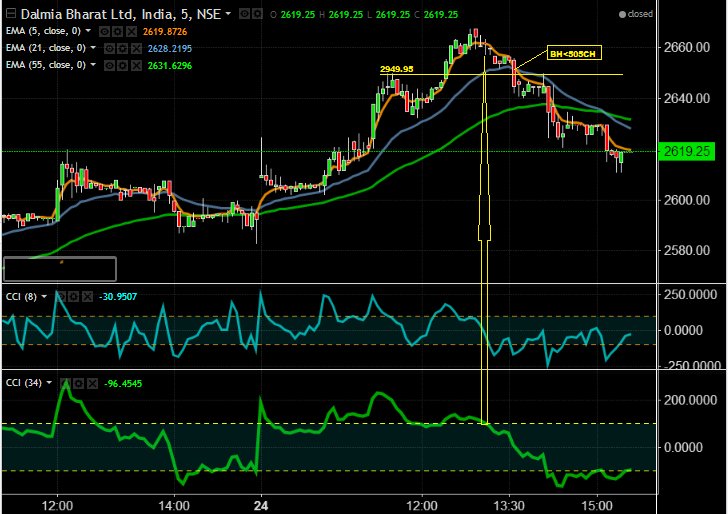 Tips Industries CMP 135.40. Avoided Overlap and there after takes off ! Mild Resistance at 140-160 range. Occurrence of Breakout as per NimblrTA BO Concept at previous ATH 159.40 will take the stock to 230 in 4 mths.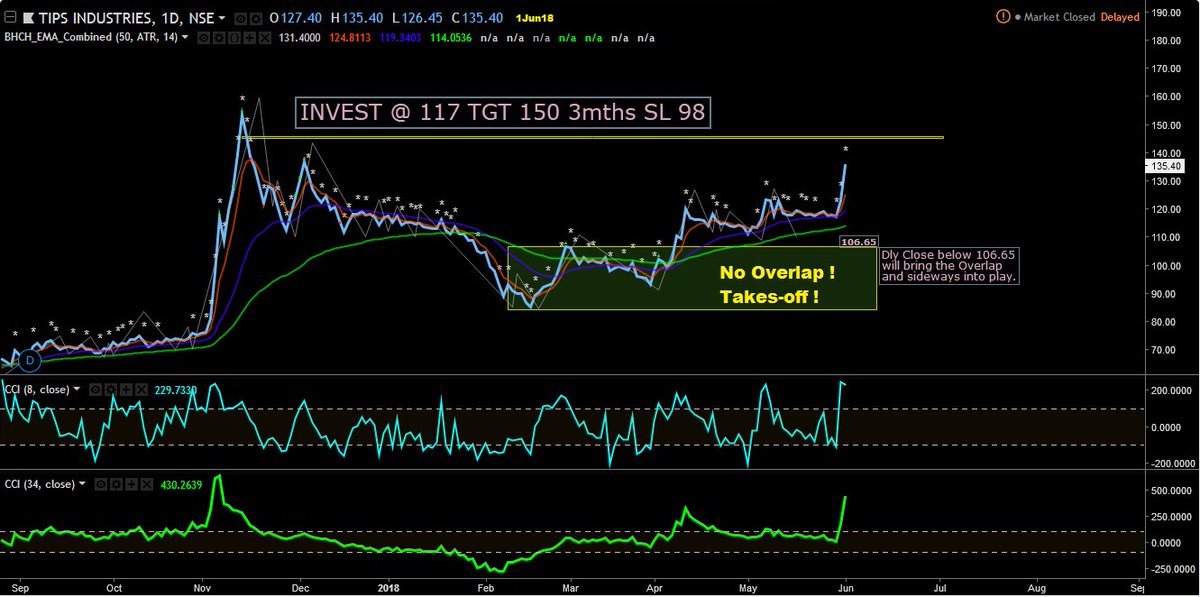 You can see the waves on bounce are overlapping. Further fall was eminent. Bearish Wedge !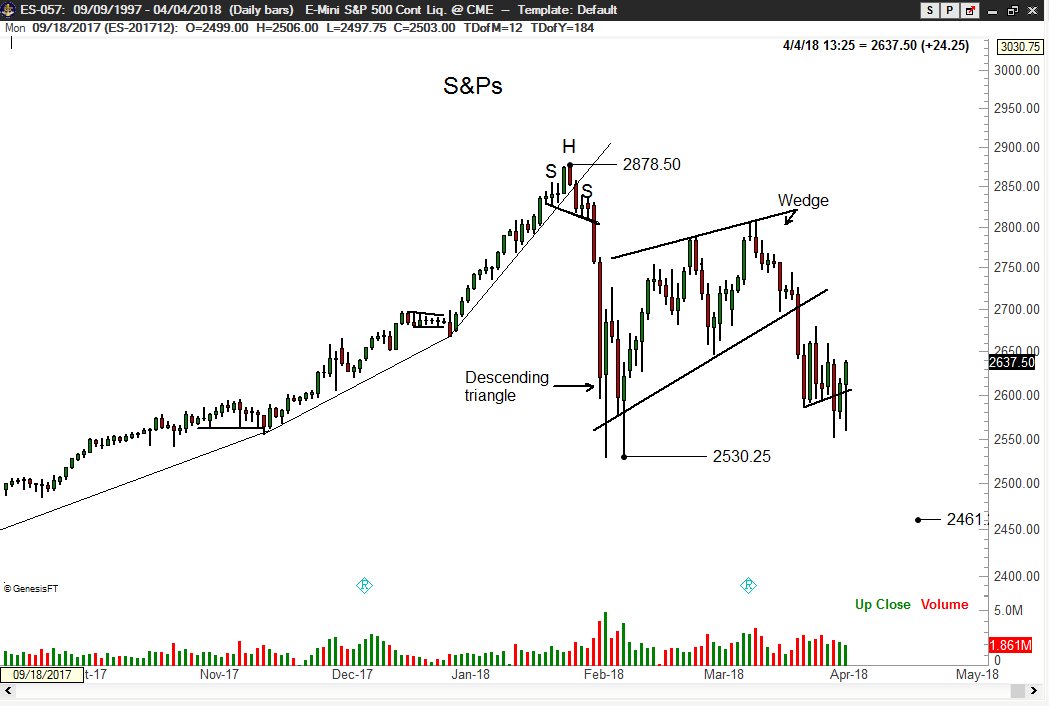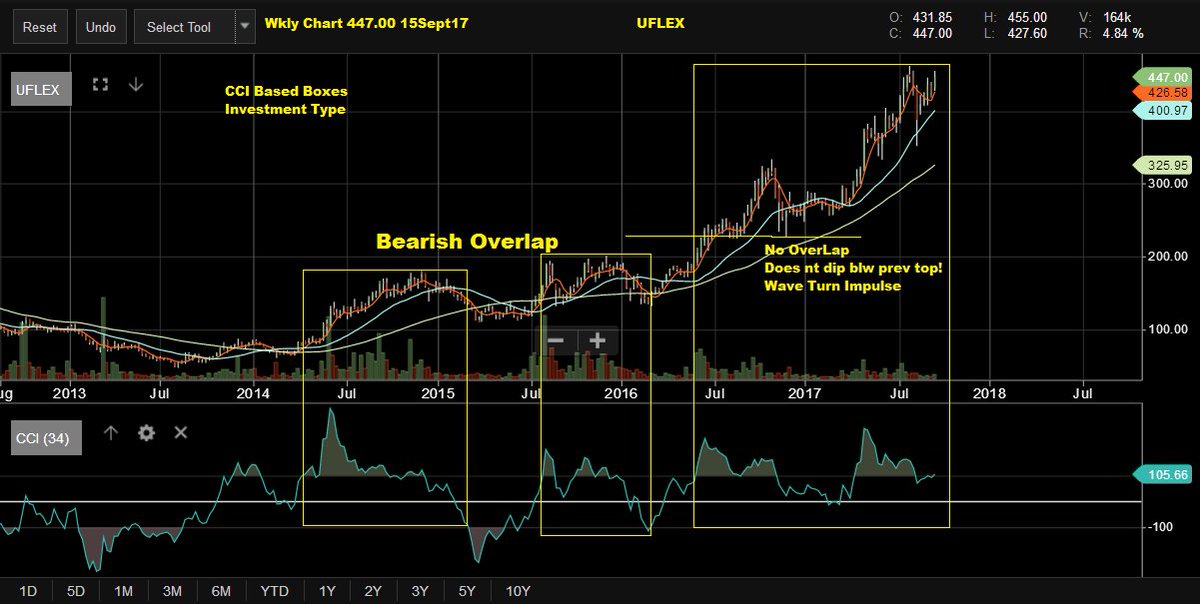 If it makes a new low marginally below 298.05 and then makes a strong impulse wave worth a entry. Currently it is a bearish wedge since low of 298.05.
Daily Chart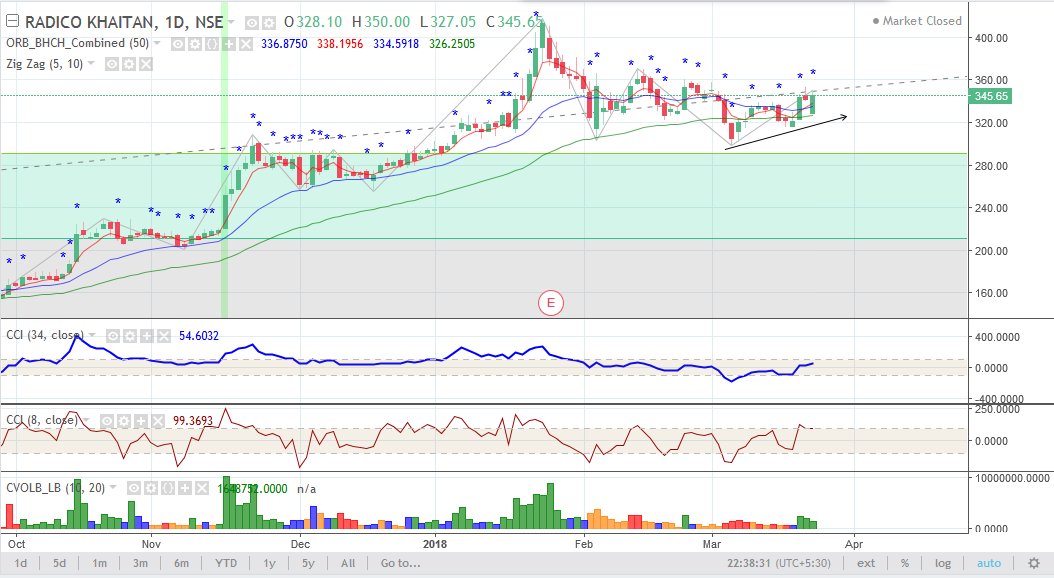 Weekly Chart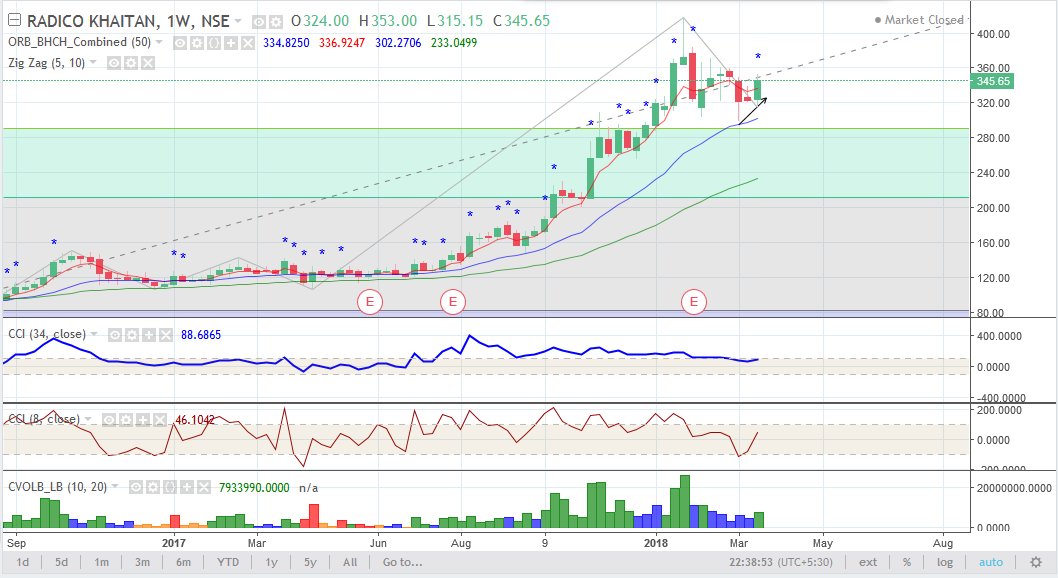 Monthly Chart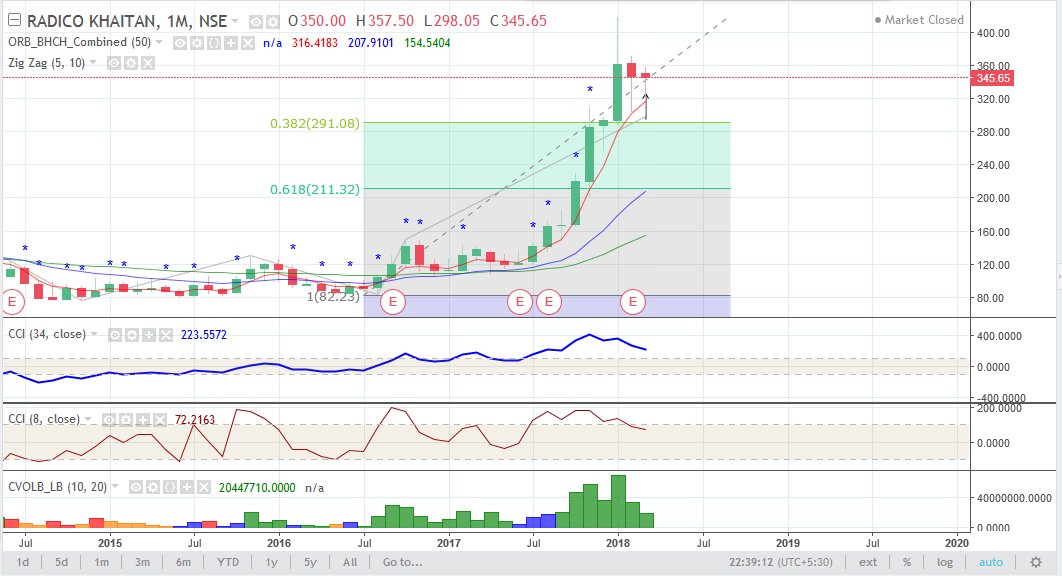 Arrow drawn suggest bearish wedge unless the breakout proposed above never falls below 113.85 high of 15Mar18
If falls below 113.85 the wave will get overlapped into a bearish wedge.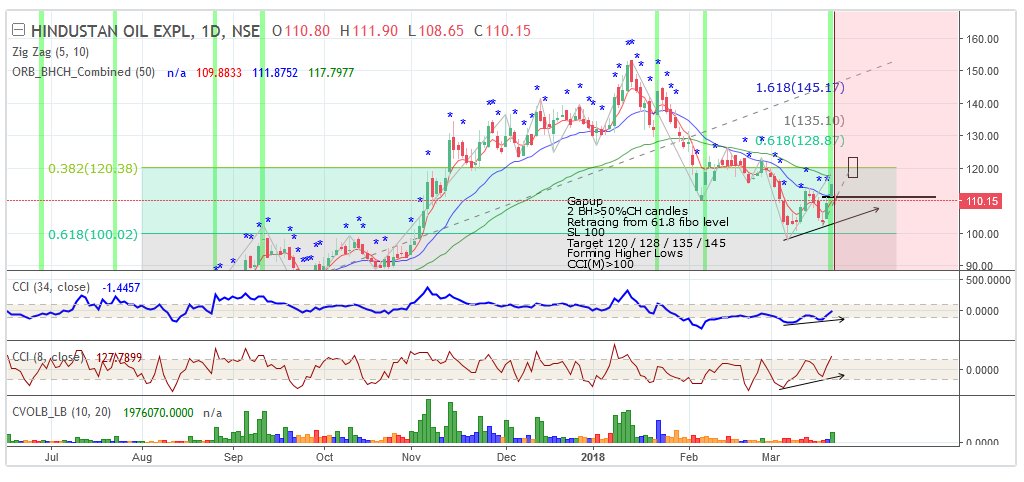 Source: TradingView Chart
Weekly Chart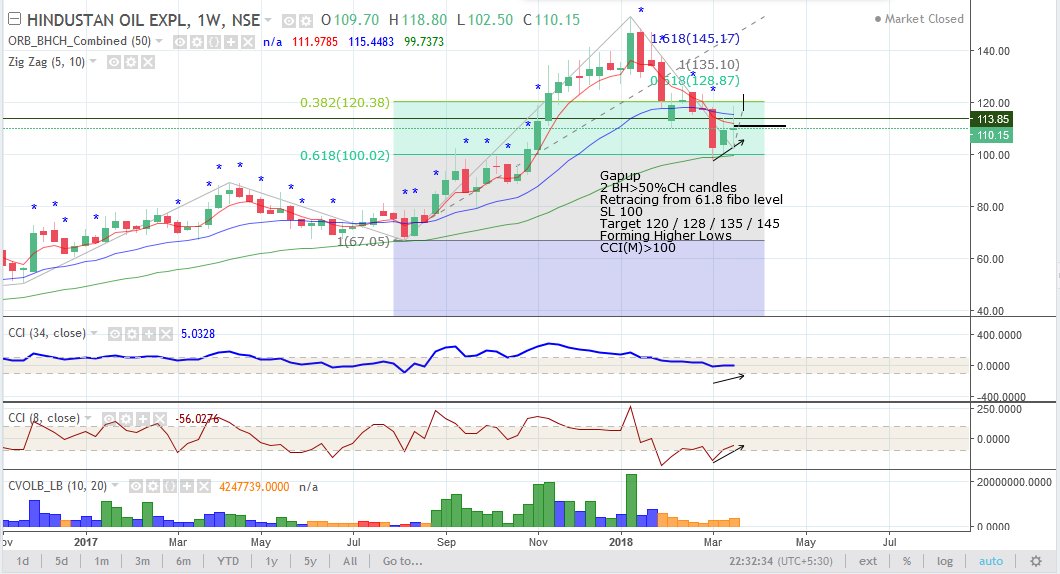 Monthly Chart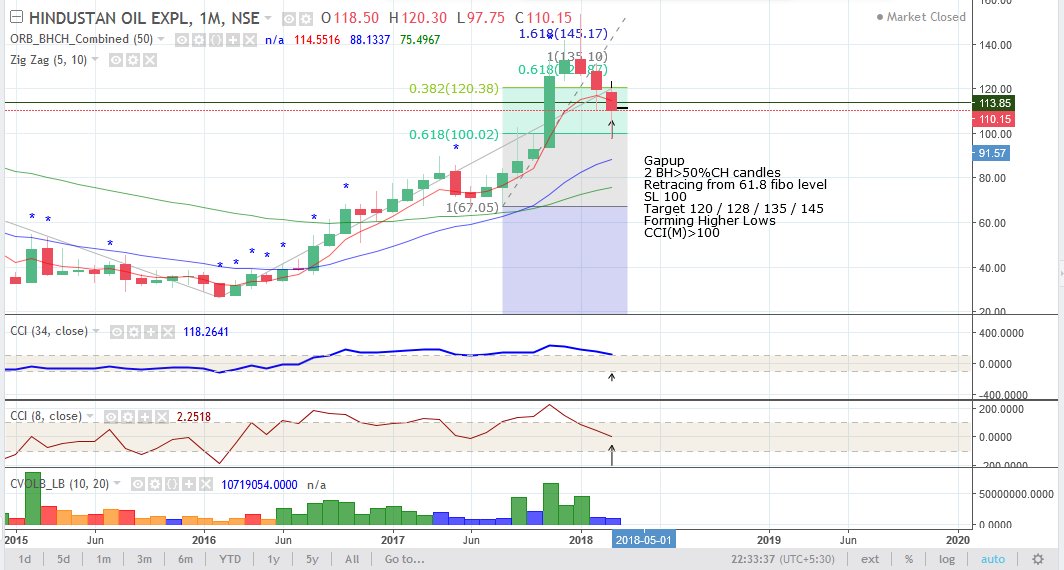 See charts in all time frames.
On D/W/M and note the subtle difference between bearish n bullish wedges! Actually a Big One!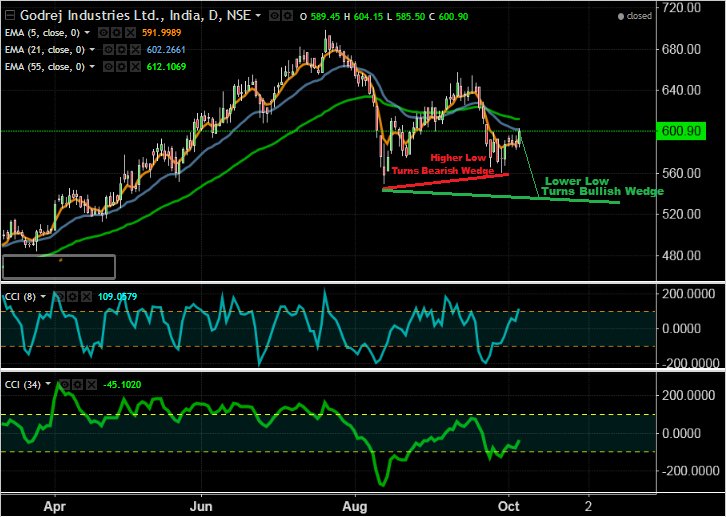 Qn Had an understanding HL are good for bulls, here its the opposite via pattern, why does pattern conflict with other theories?
Ans
Here the chart does not have CCI>+100 rather in Sell Hold! So in a way bearish wedge compliments.
The Bearish Wedge and CCI in Sell Hold is complimenting not contradicting !
Patterns will always co-relate n compliment CCI + BO as CCI's based input is price.
Followup chart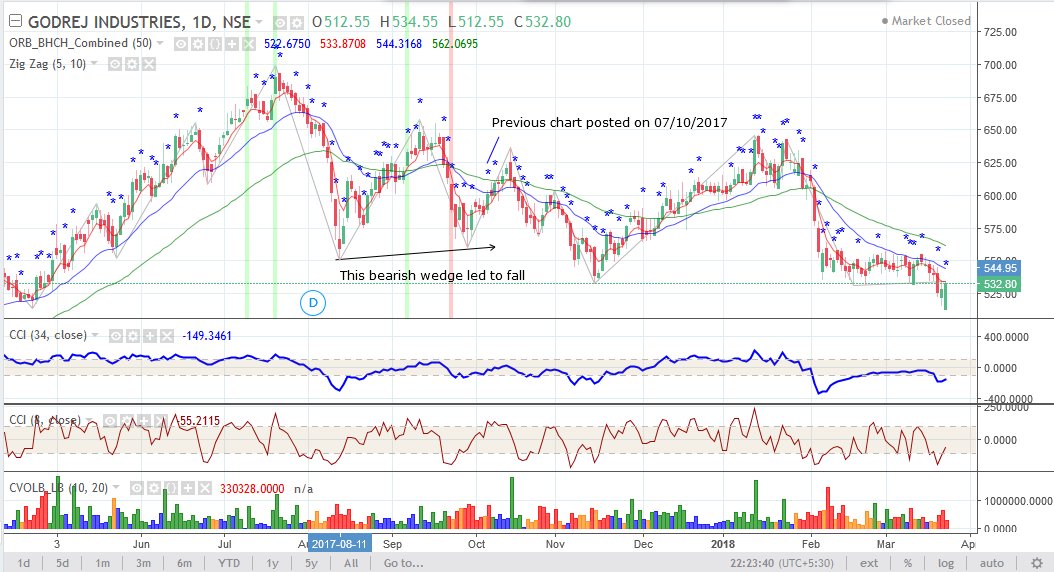 Weekly Chart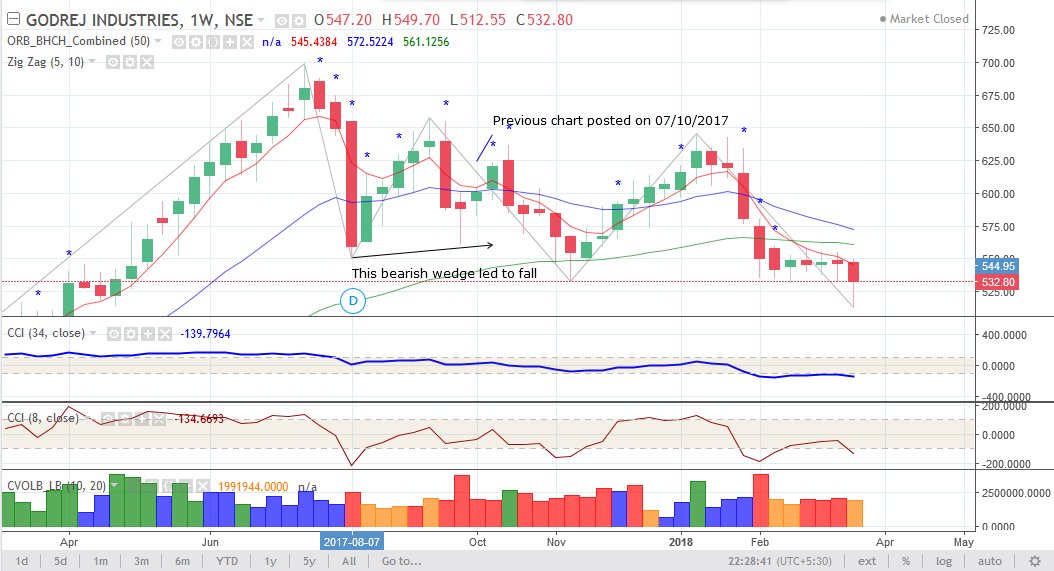 Monthly Chart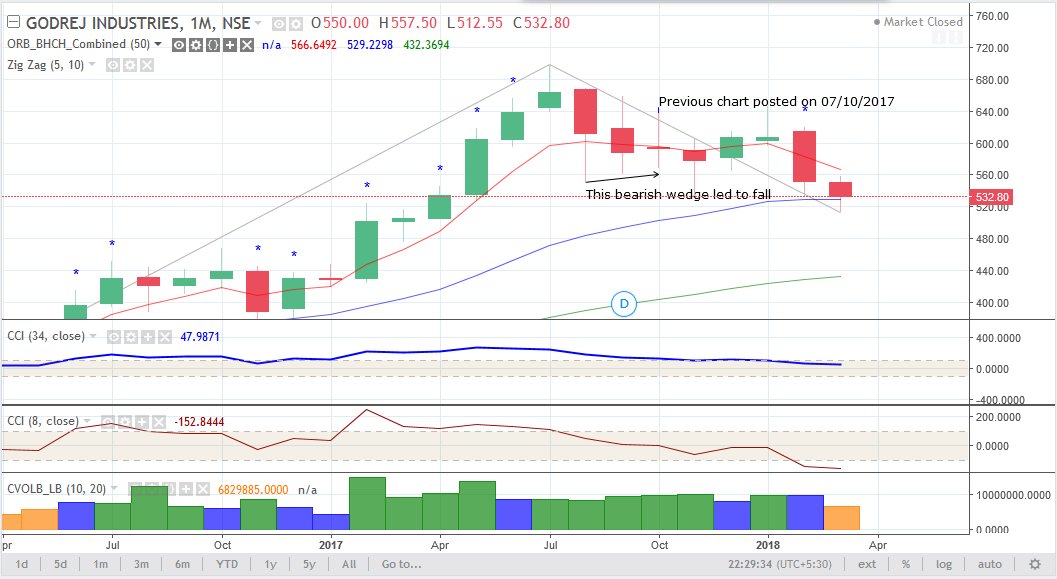 For the Good Health of DJI better it bounces from a low just below 23065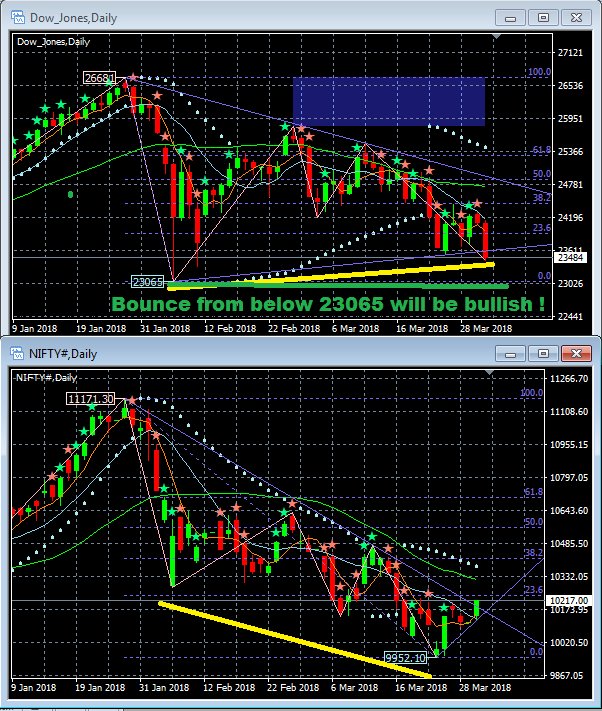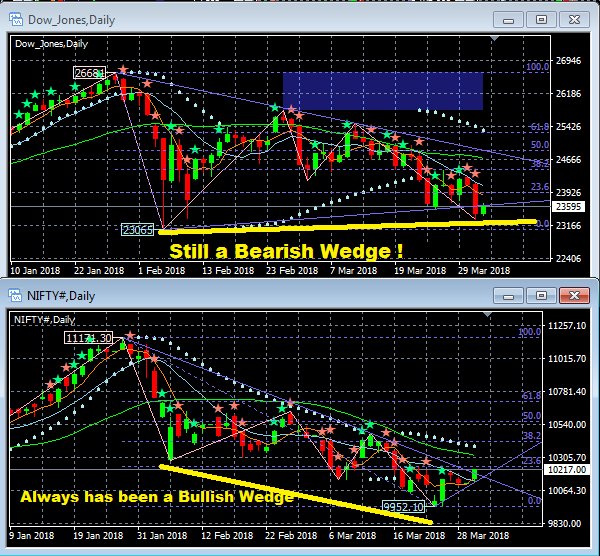 Qn: Is the same logic valid for CCI-Buy Hold + HL as well, chart marked for #KAKATCEM So this again becomes Bearish Wedge?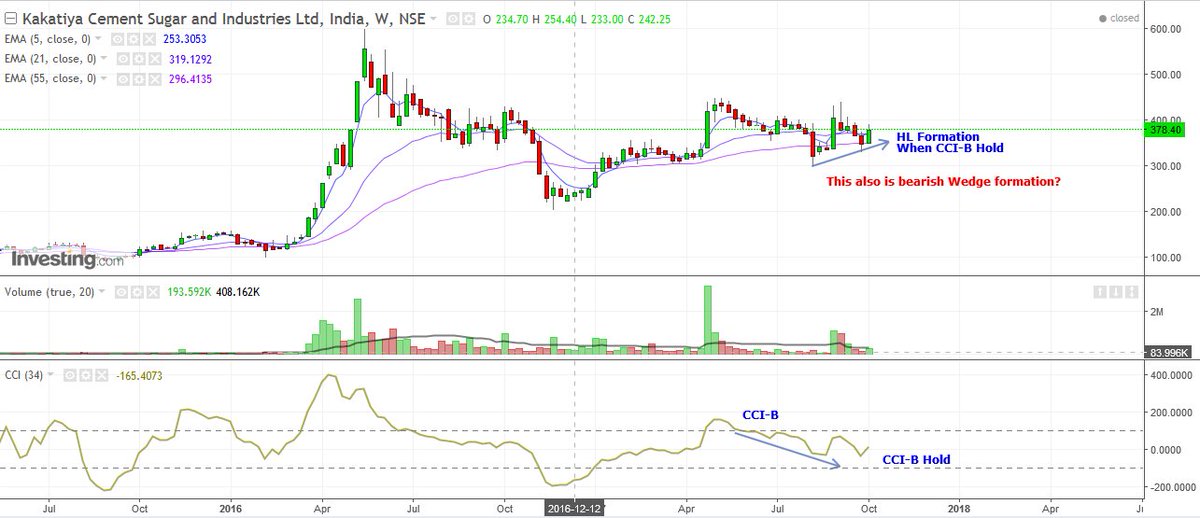 This is a Bearish - but the moment a higher Low is formed followed with Lower High , the wave will turn impulse if shoots above previous high!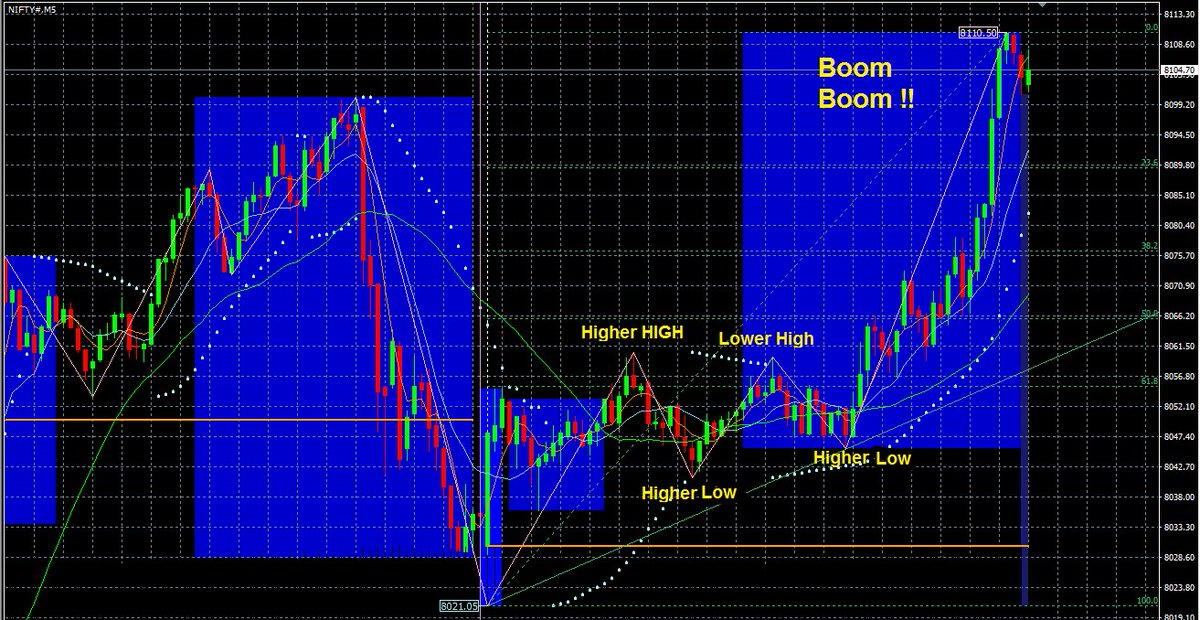 Candle Analysis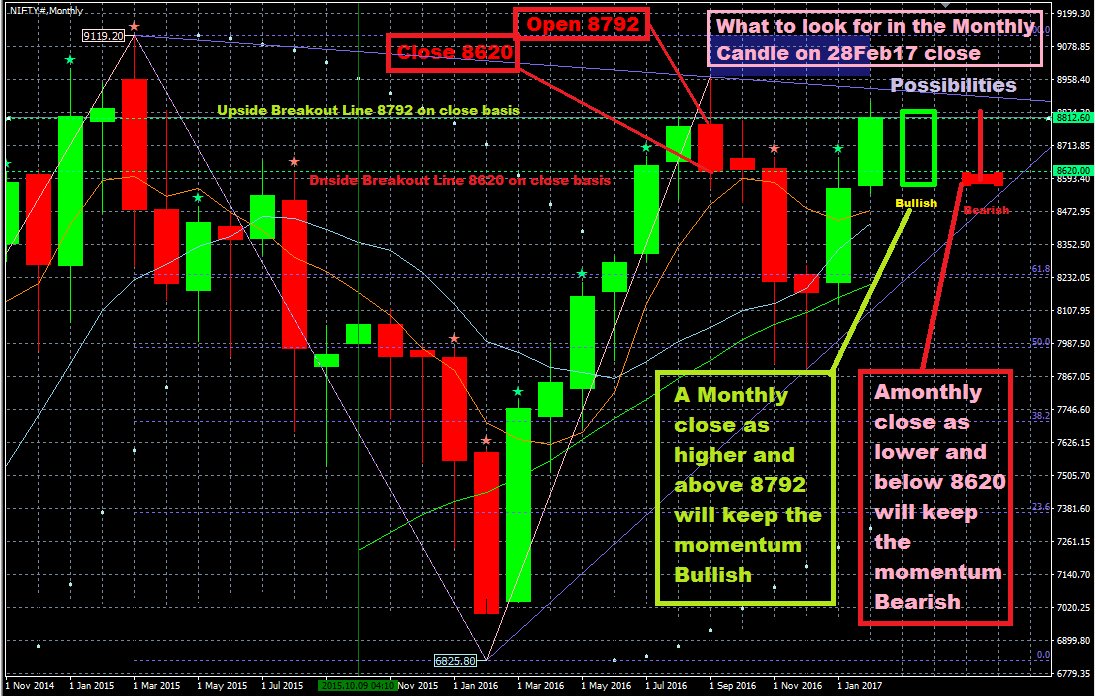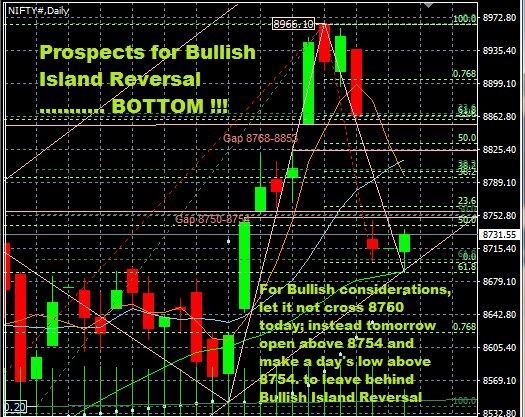 Nifty Breakout of Range, next test at 10080 !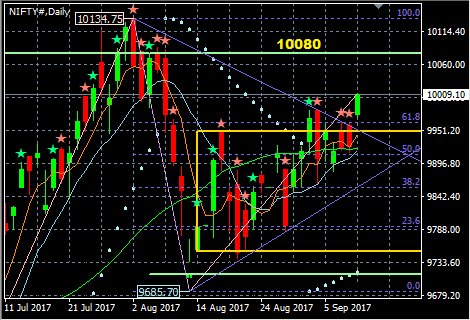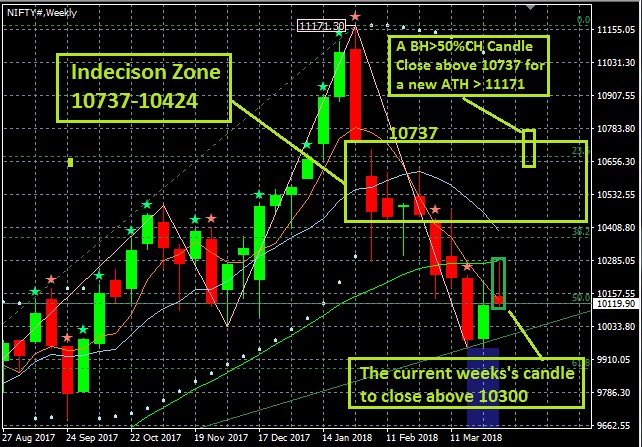 1) Current Week to close above 10300 to hover into Indecision zone 10737-10424
2) A BH>50%CH Candle with close above 10737 for a new ATH ABOVE 11171
Nifty closes at 10331 for week 2-6 April 2018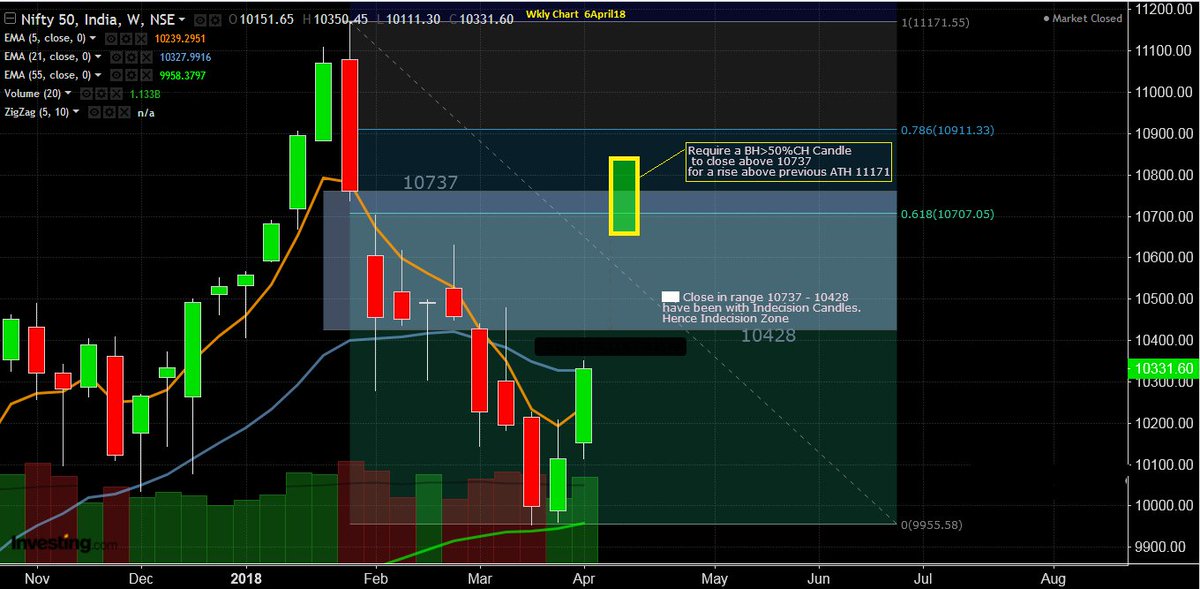 Nifty Weekly Chart Analysis!
1) Last Week's Strength Candle Close in the Indecision Area 10428 - 10761 is positive.
2) Bulls require a Strength Candle with Close > 10761 for the fall 11171.55 to 9951.90 to be termed as just a 'Pullback'.
3) Bears require a fall below Low 10111.30 to cancel uptrend. Gap 10736.10 - 10702.75 is in favor.
4) On Daily Chart Close range 10761 - 10428 have been with Indecision Candles. Hence Indecision Zone.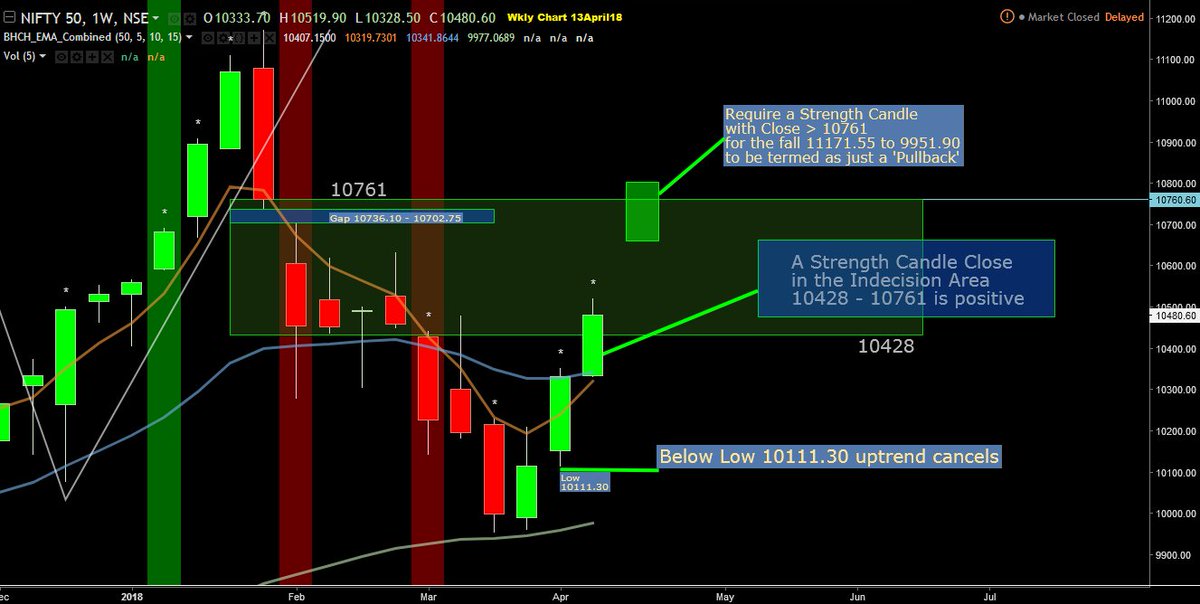 Nifty needs a Wkly close above 10603.70 tomorrow that can keep the current weeks gains intact for a perfect foundation to enable
1) cross over of the Gap (10736-10702)
2) for the week ending 27April18's close above 10761 !
Nifty .. 10565 .. would be worrying if closes below 10494 in which case good work of the whole week gets squashed away !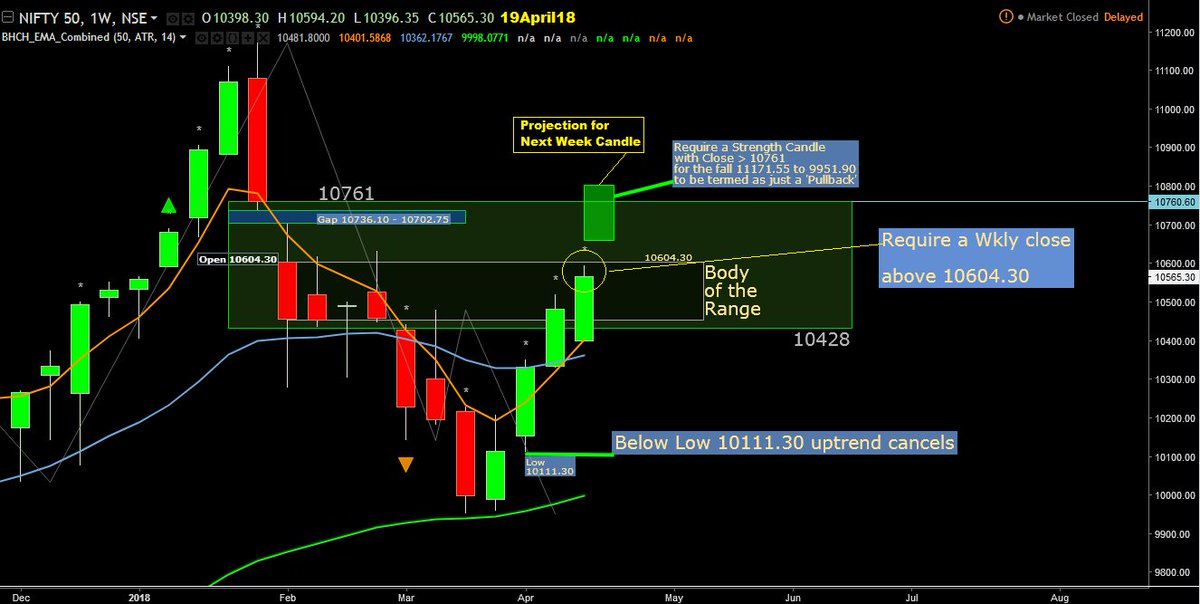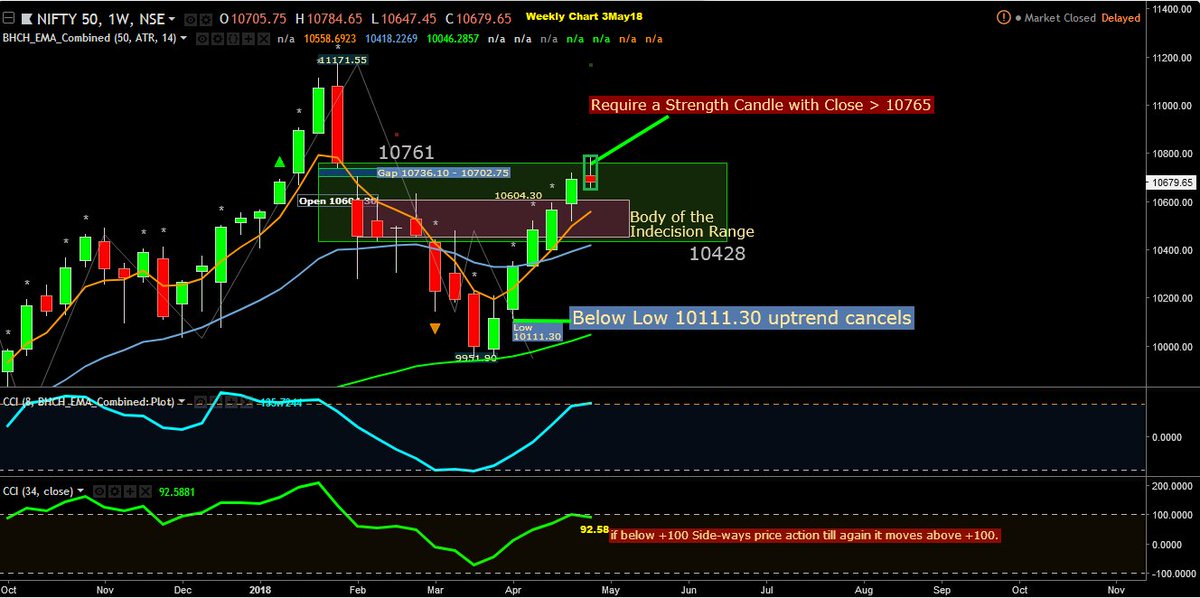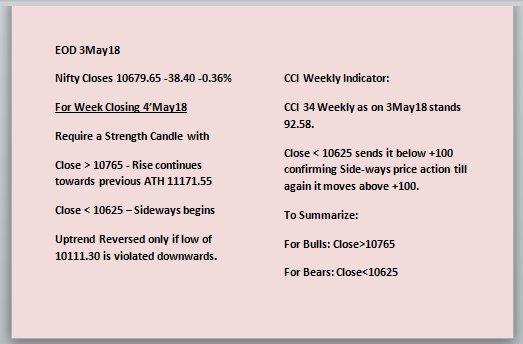 Nifty 10633 A Weekly Close on 1st June18:
1) above 10761 will cheer Bulls
2) above 10816 Celebration for Bulls
3) below 10600 Bears get a foot in.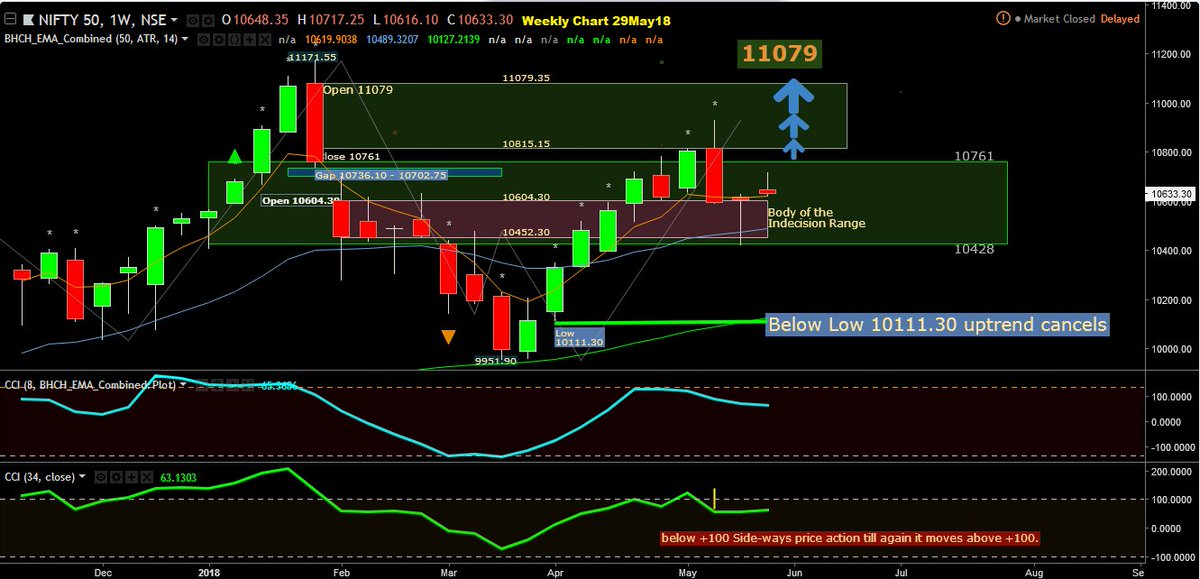 Nifty 10633 ... A Monthly Close on Thu31May18:
1) Above previous month close of 10739.35 would cheer the Bulls.
2) Below 10527 Bears get their foot in. 78% Retracement Augurs well for Upside.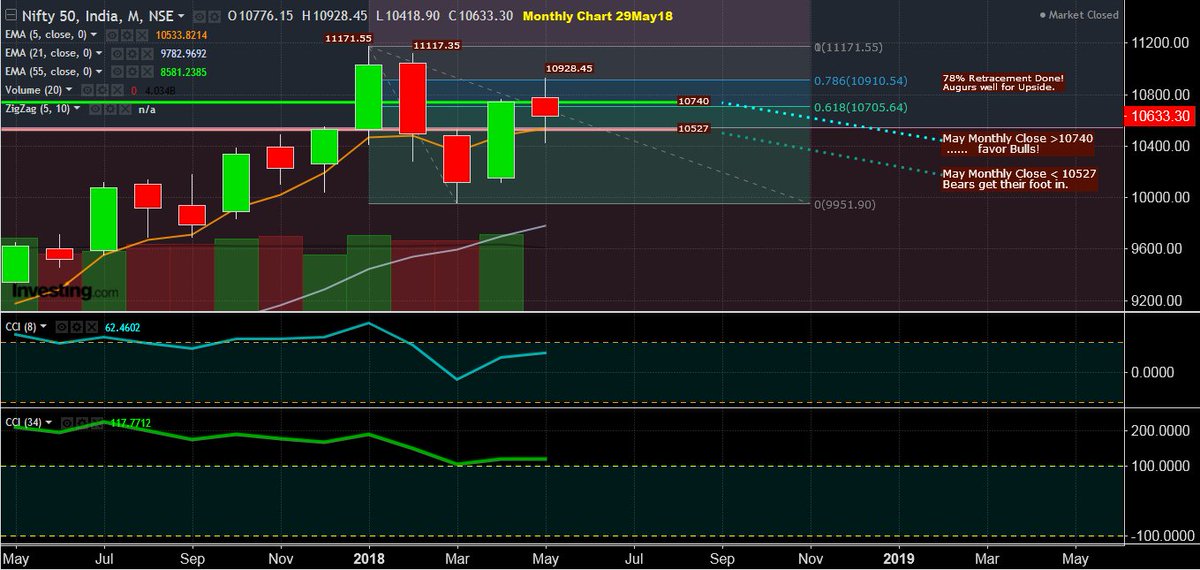 Monthly Chart ...Nifty must Close above 11281 on Tuesday 31July18 ... is a minimum expectation for the next three trading sessions left for the month.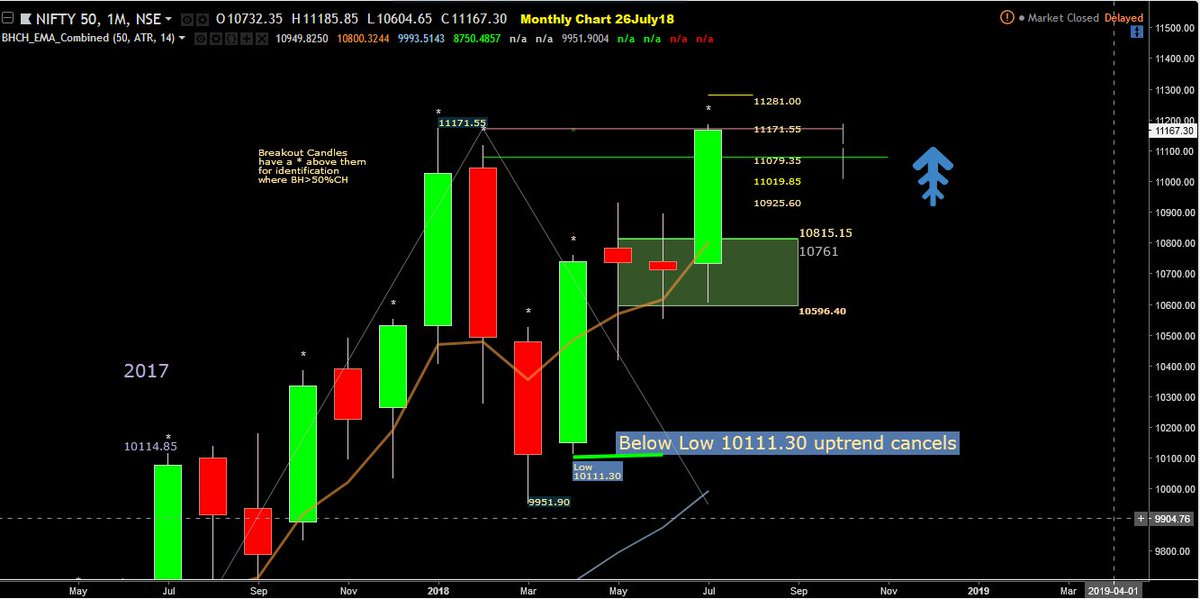 Monthly Chart Nifty ... with a one year ago July 2017 candle on left down corner with High 10114 ... we are now at 11221 +11% Higher over July 2017 High 10114!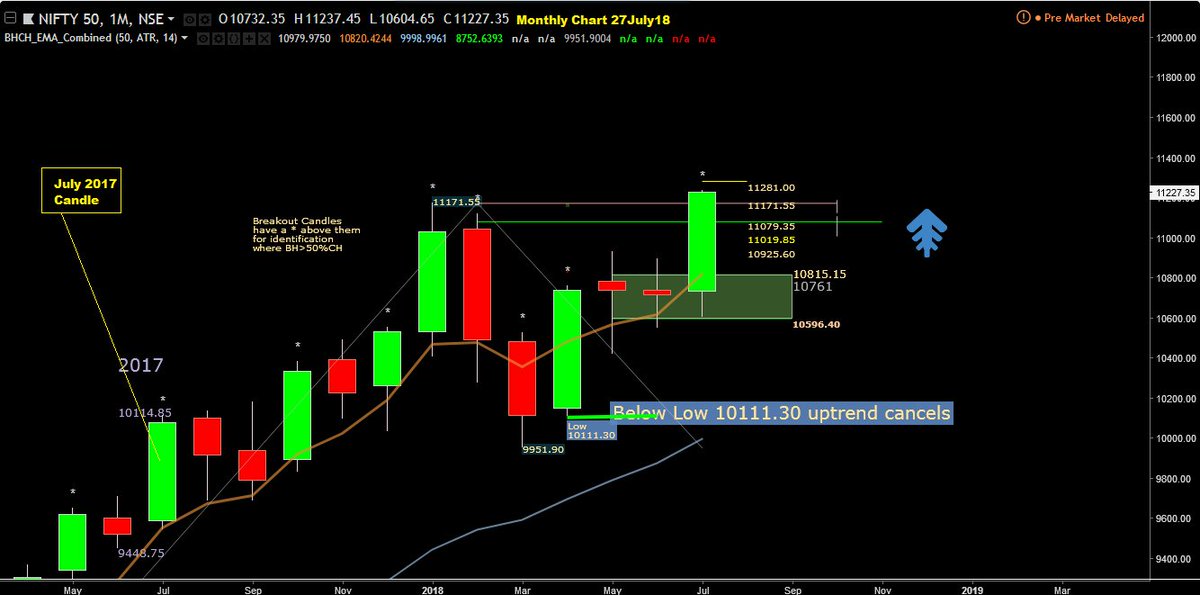 Tata Motors .. today's Gap down (354.40 - 352.55) and a downside strength candle close needs to be seen with caution. Another BH>50%CH Candle with Close < Open below 337 will result in Big Slide!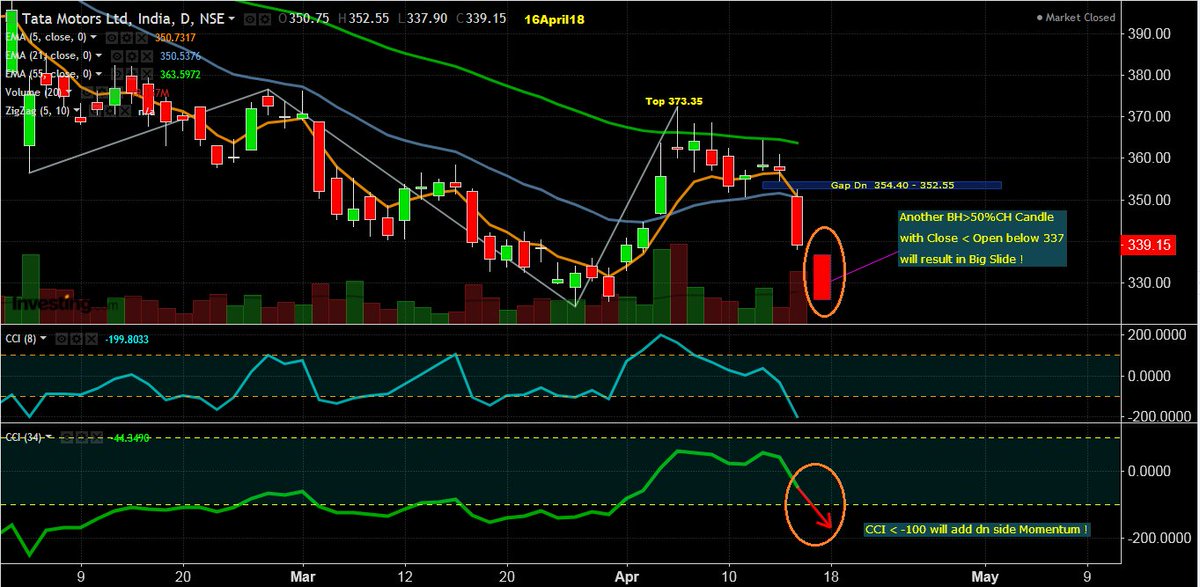 Tata Motors opens 177.00 higher than prev close of 175.00 H/L 180.90/176.95. DTR 2.20% 3.90pips Lets see , if it makes a new Uptrend from here by close of day !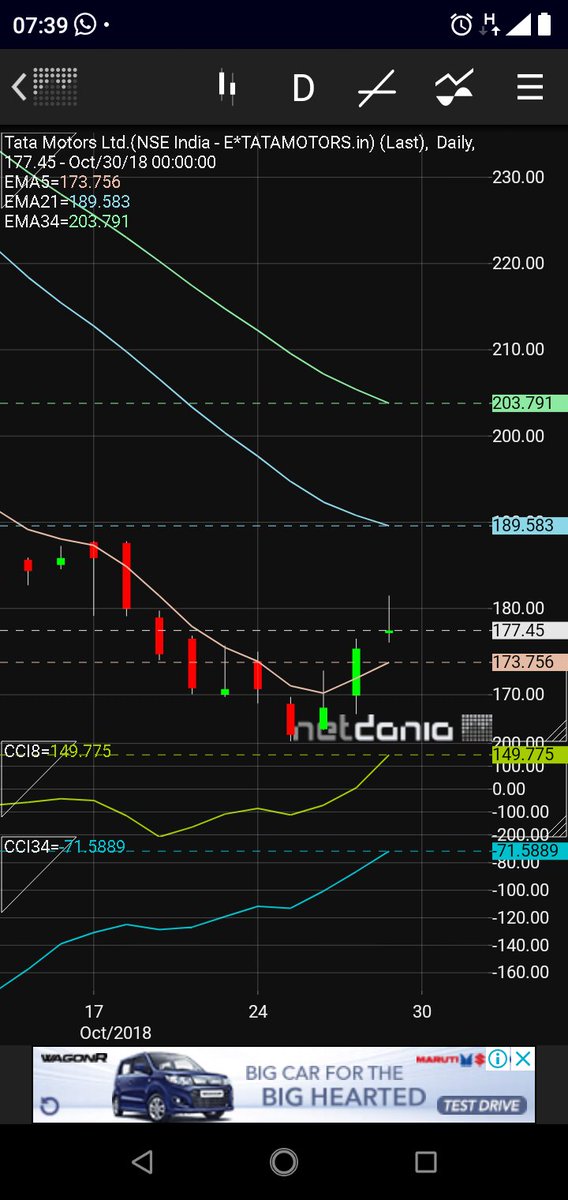 Takeaway:
Here rather than a gapup with previous high < current low, we also consider the open and close for n and n-1 day, basically an analysis without the wick.
ADF Foods CMP 269.55 A Mthlly Close on 31May18 above 275 rise to 490 1yr SL 189 .. 30May18 21:57
Qn: Here you have considered and given importance to zone resistence of previous red strength candle Open price 274.90, if we look the other way it is also a current strength candle with reversal on weekly and alignment with momentum with highest high on the leg. How to balance view?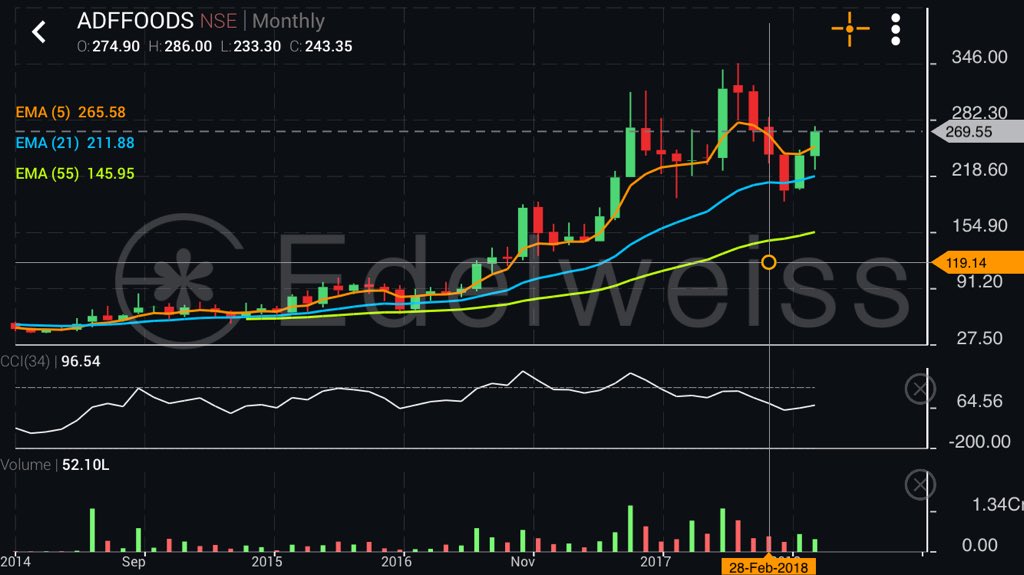 Ans: Yes ! given importance to open 274.90. If closes above 274.90 it enters the first fall candle of Jan18 with open 315. Strength Candles provide conductivity to price action on both side. Once closes above 275 315 becomes a possibility. Previous such instances r numerous
Qn: In case we dont get 274.90 tomorrow that but it closes as a strength candle for the current month, would that indicate a downfall due to resistence at strength breakout zone at 274.90? Or based on other parameters like 2 strength candles with highest high and ema will move up?
Ans: Even if not > 275 the price conductivity is always both sides in a strength candle. Only the Indecision candle break the path.
Qn: Does that mean if does not close > 274.90 then it can start to reach 243.35 which is the zone support (Close)for the equivalent red candle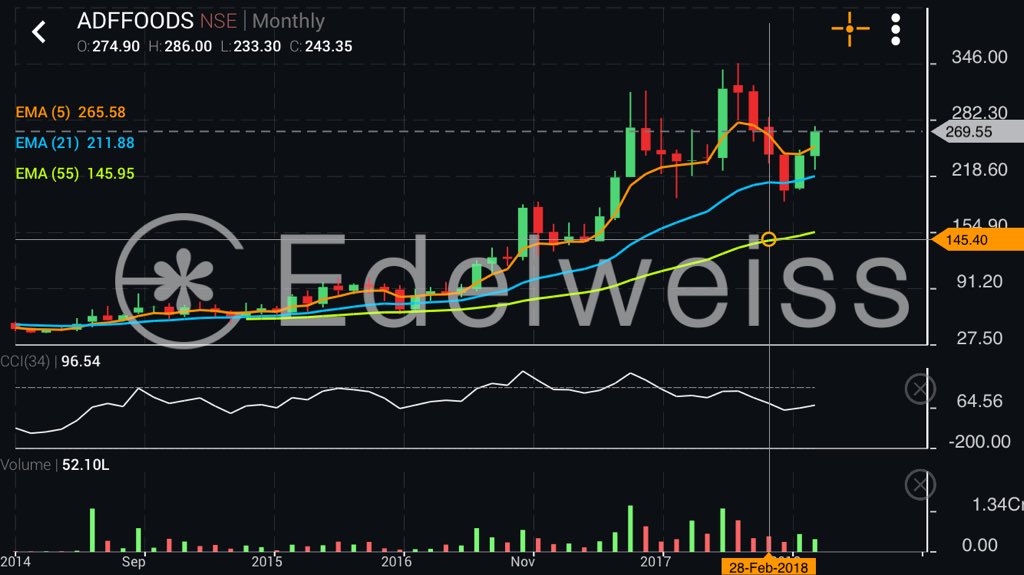 Ans: If it closes with 270.70 close of Jan18 it will conduct till open of Jan18
Bharat Electronics Ltd CMP 102.50 Monthly Close above 115 on 31July18 ... Invest for a Rise till 183 6mths SL 85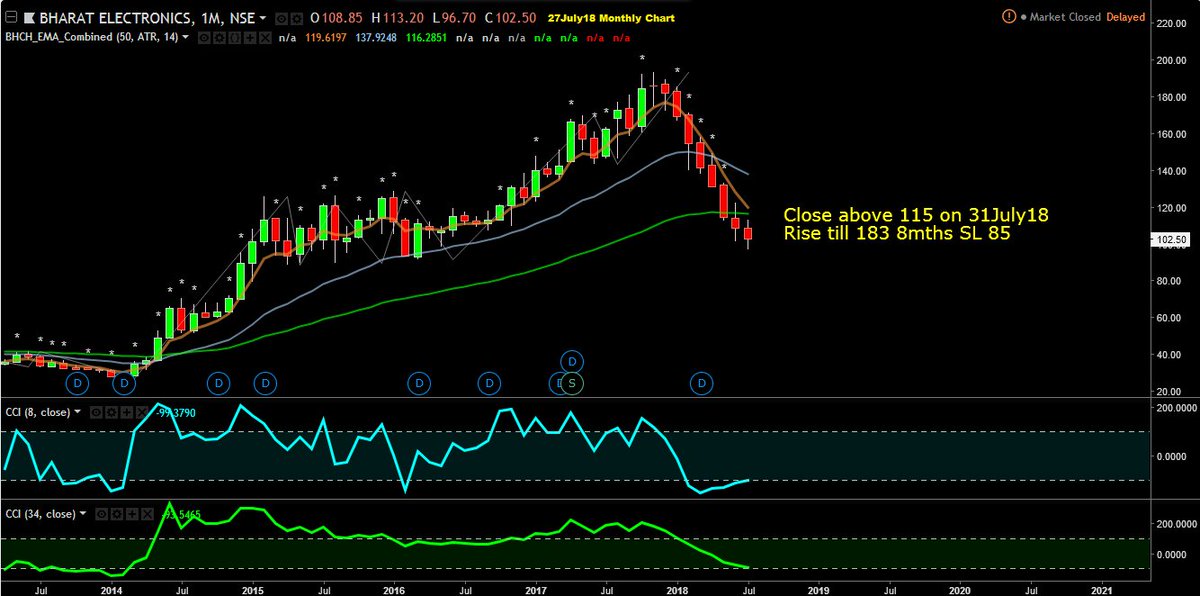 As can see a close >114 (Open of indecisive candle will open the gates for a climb)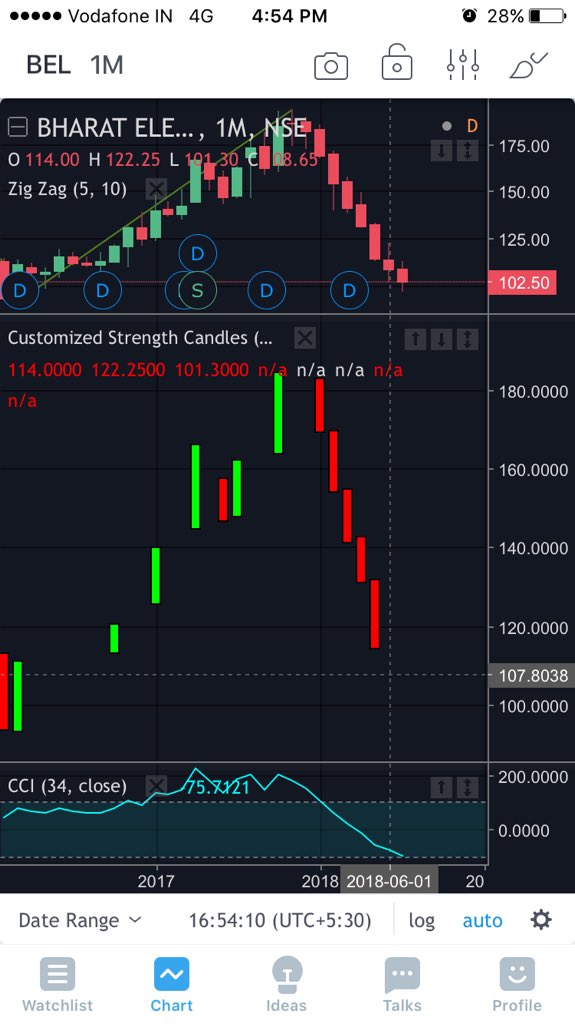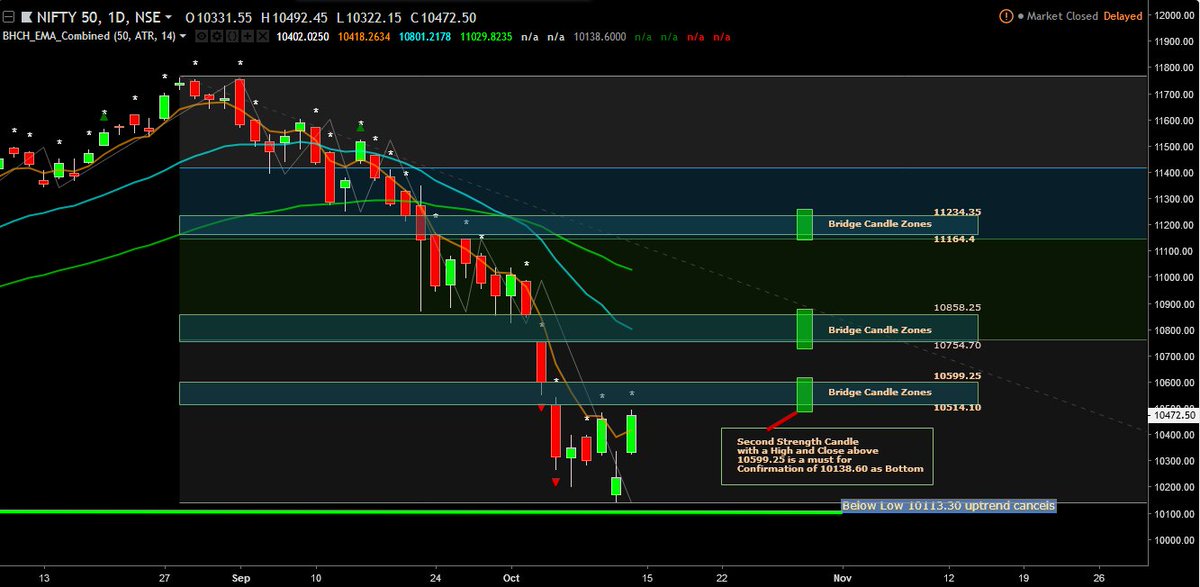 NimblrTA Rule - For any bottom to be confirmed need two successive consecutive Strength Star marked Candles. Here the second with a High and Close above 10599.25 is yet to be formed for Confirmation of 10138.60 as Bottom!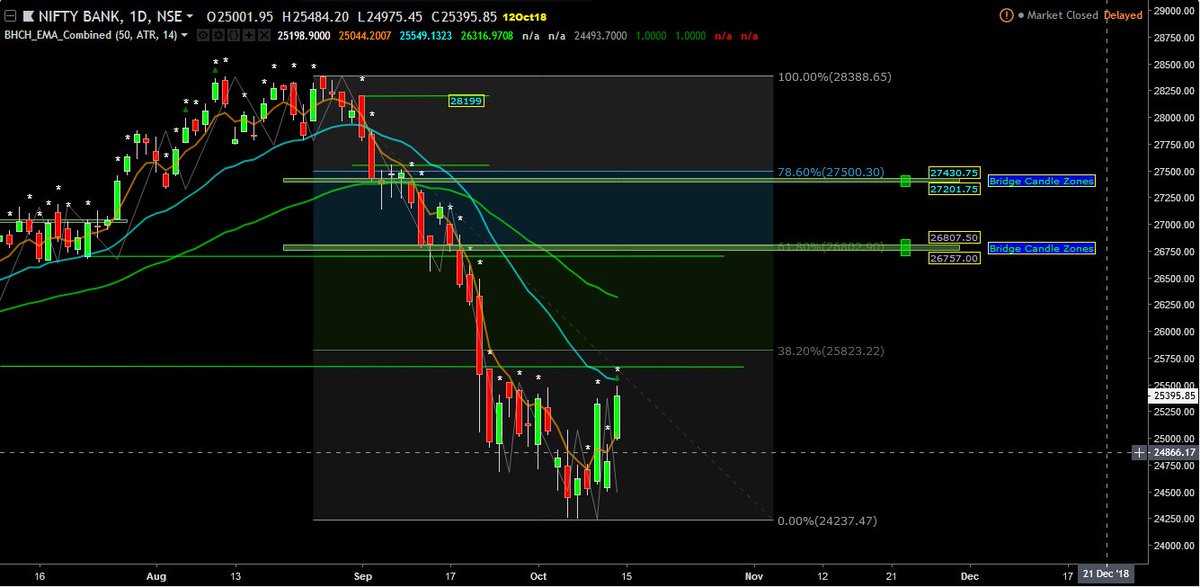 BankNifty on the other hand has already formed the two consecutive successive Strength Star marked Candles and has no resistance for a run up till 26757-26807 range. Bottom 24240.05 is Confirmed.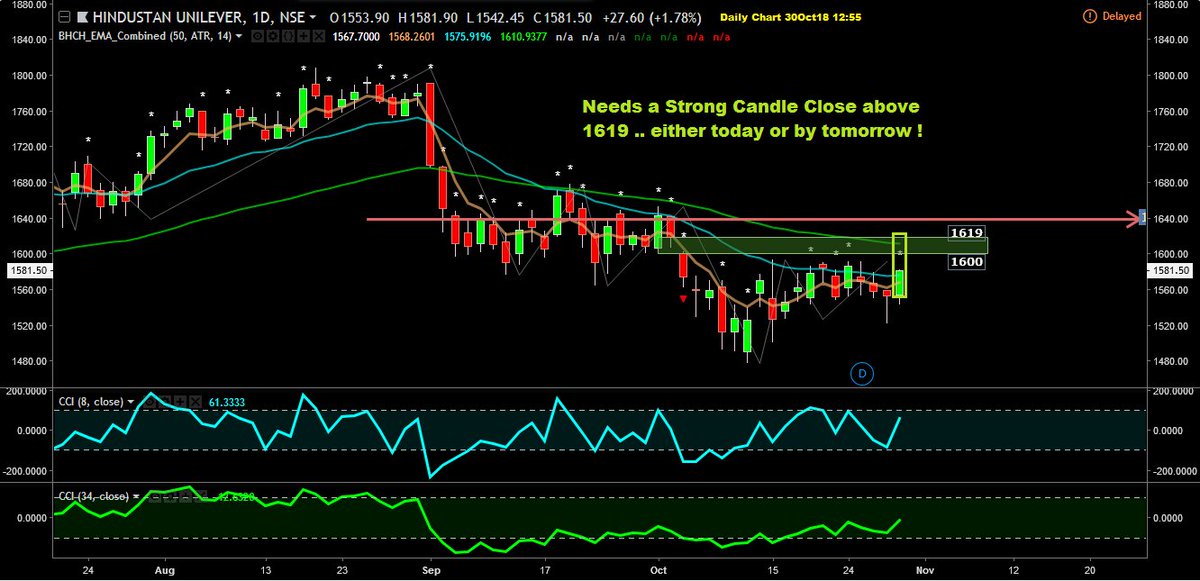 (Use the indicator https://in.tradingview.com/script/8lEwF4ci-Strength-Candles-With-Gap/ )
Analogy Based Analysis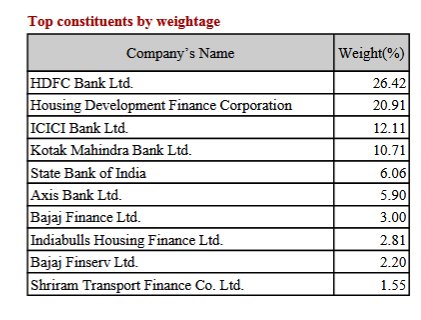 CNX Nifty Fin Services 10726 ... Needs a Wkly Close above 10887 on Fri 4May18 for further rise. HDFC Twins has a lot to achieve!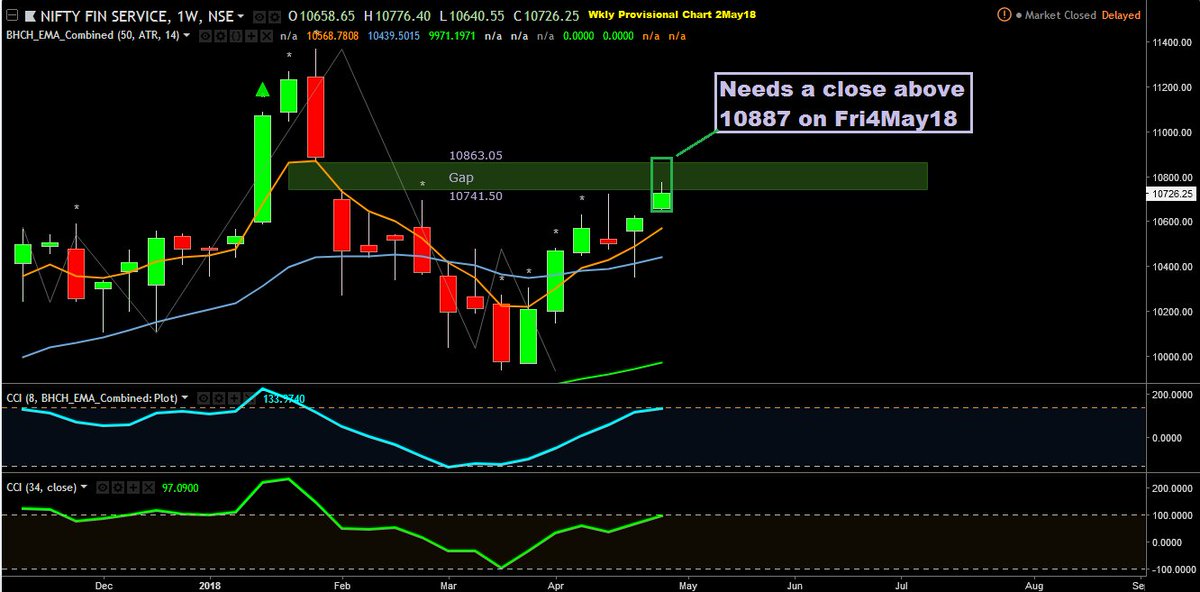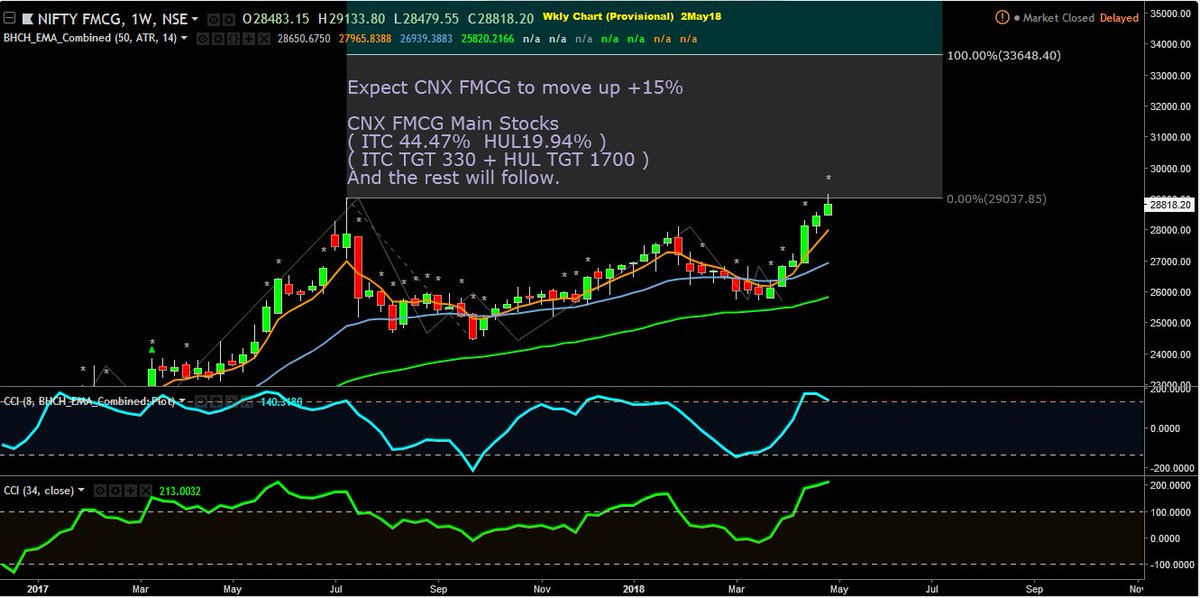 Sideways Action (CCI34 W crossing below 100)
Confirmation awaited (strength candle must be lowest low), though sideway action started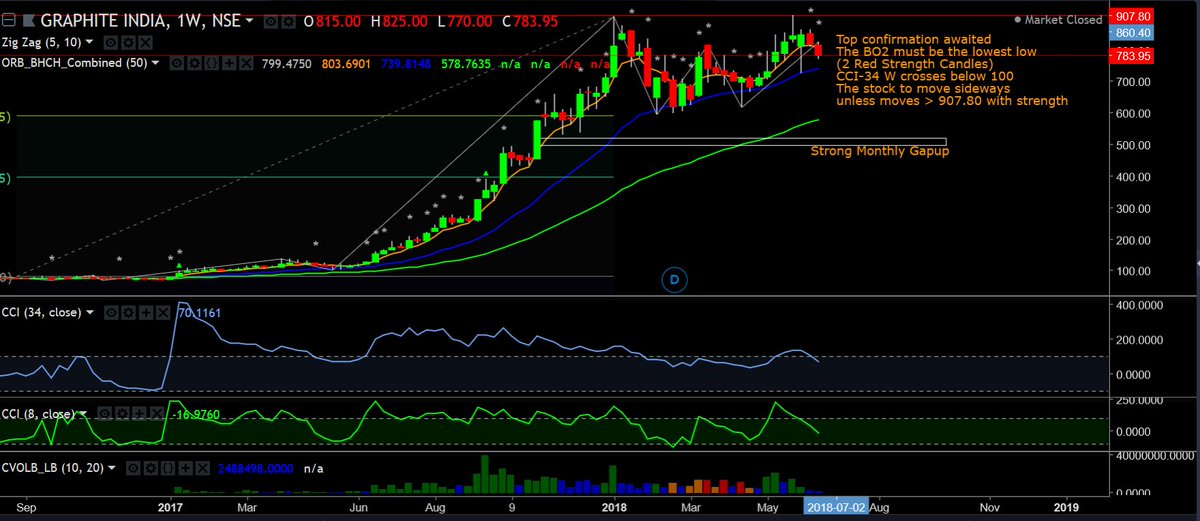 Confirmation awaited (strength candle must be lowest low), though sideway action started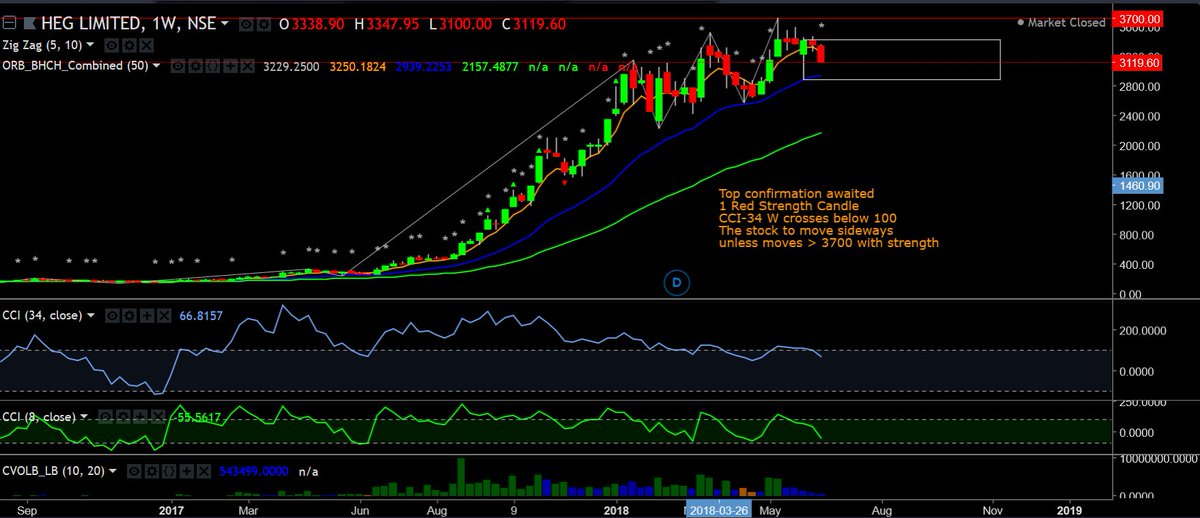 Top confirmation with sideways action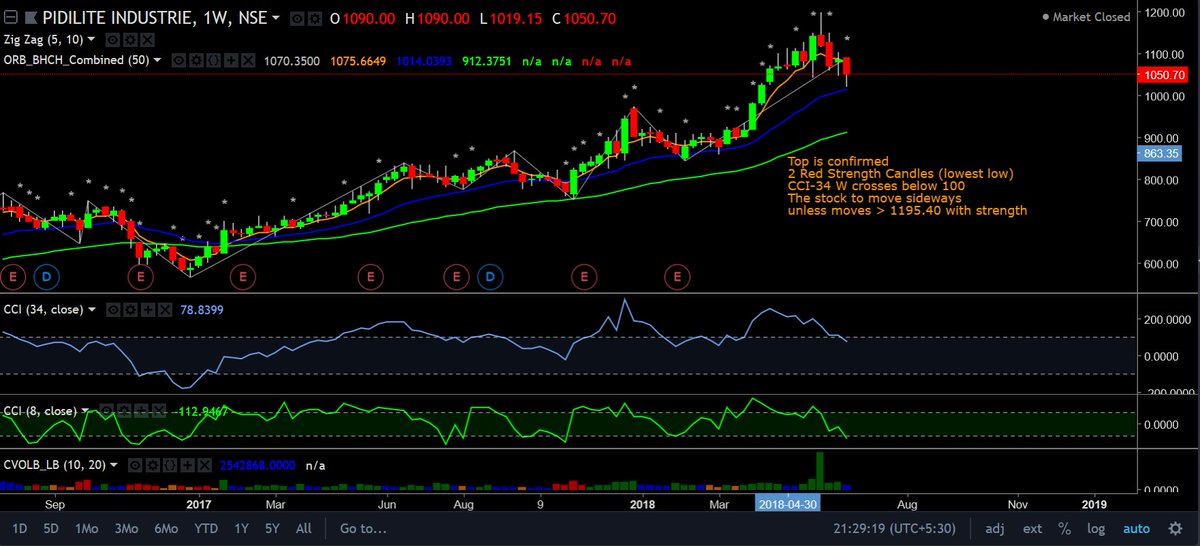 Top yet to confirm, sideways action started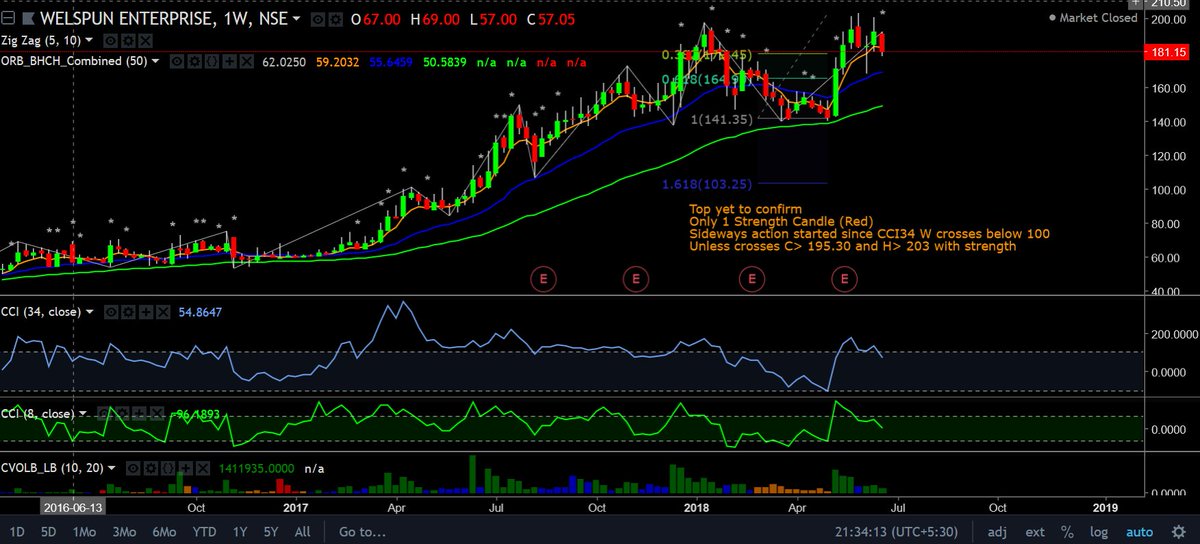 You can be wise to deal with situations and exit at CCI34 Weekly crossing below 100. Two stocks PC Jeweller and Vakrangee were sudden news. Market tends to get its first support from traders and see a bounce to 68%. If the news is not sudden you can use CCI 34 WKly<100 as in Manpasand!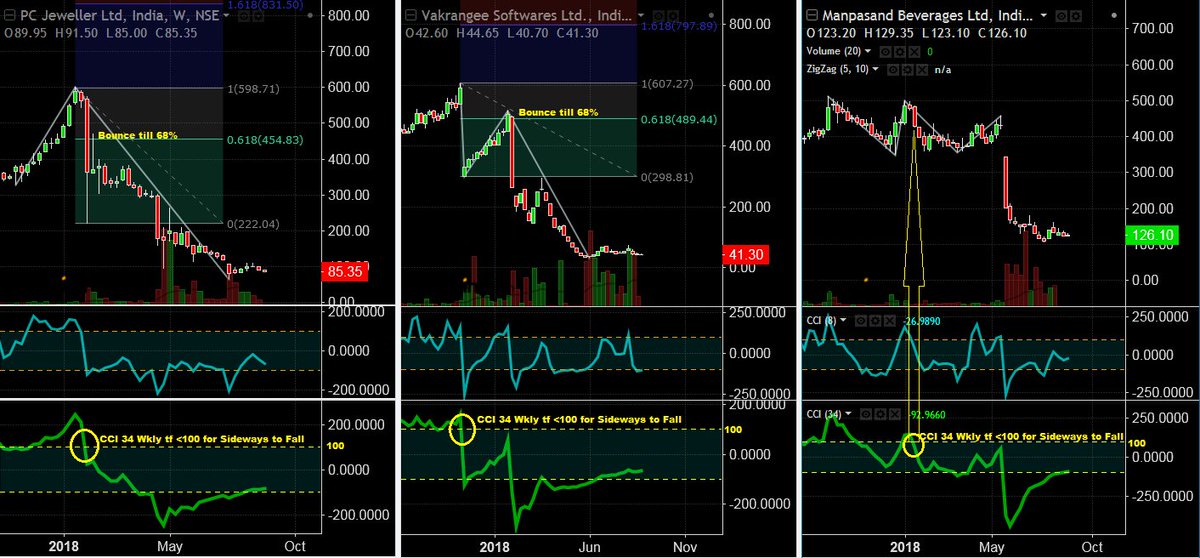 Divergence:
Divergences fail in a trended fall or rise. Works best in sideways or range price action!
Using different components of the concept to take clues for early entry
NimblrTA helps you with taking judgement to get early entry based on your knowledge and understanding.
Let's take the following example where the entry happened around 1770
We shall switch multiple charts and timeframes along with the concept guidelines
Daily Chart: https://in.tradingview.com/chart/ASIANPAINT/VR37BPr4-ASIANPAINT/

MIZone(Daily): https://in.tradingview.com/chart/ASIANPAINT/51pmTm8w-ASIANPAINT/

CandleStick(Weekly): https://in.tradingview.com/chart/ASIANPAINT/sPOJfeem-ASIANPAINT/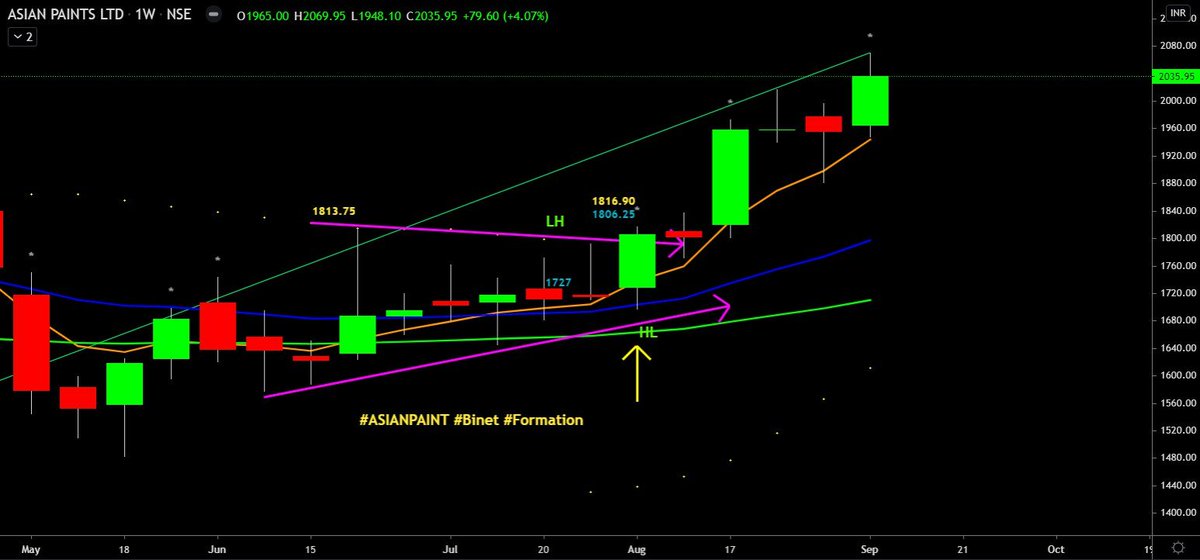 Binet Blast: https://in.tradingview.com/chart/ASIANPAINT/toTtza1L-ASIANPAINT/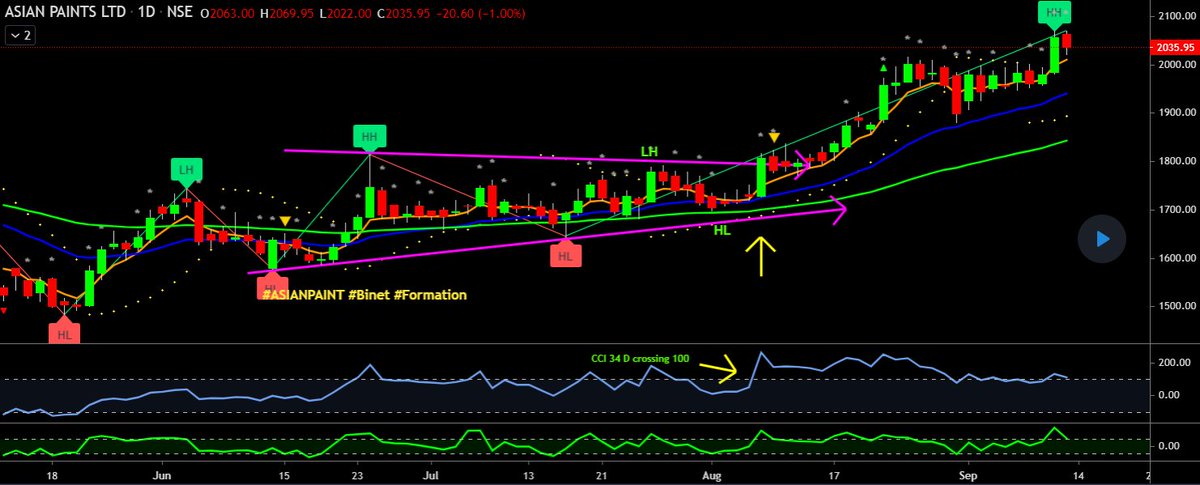 Qn: There are 2 cases before the actual blast where the condition satisfied. Both of those has ic/mc bo. Did you enter in those cases as well?
Ans: No
CandleStick analysis on Weekly will tell you, you need Highest H and C with strength, gave a candlestick BoxBO on QueryBuilder that appeared in the week starting 3/8/2020, entry on Daily basis near 1770 as was posted on tradingview near that time https://in.tradingview.com/chart/ASIANPAINT/VR37BPr4-ASIANPAINT/
If you take clues from MIZone where the range was crossed around 1770 prior to it at all IC/MC BO the IZ was acting as a resistance
There is a complete list of components, many times you will get confirmation on majority of them, those are your triggers to enters. By the time the other components give you confirmation it may get delayed for entry of the initial entry may be missed, so you need to be balanced, here Weekly CCI momentum is at 1820/1958 O/C of the week, the real entry happened around 1770 looking into other clues, so you get minimum of 50 points edge above based on amalgamation of timeframes and understanding of the concept in depth
Result: 1770 to 2069 Binet's Blast